Few people resist the tempting aroma of coffee. Getting up in the morning and sipping a cup looking out the window is the best way to start the day. 
If you think about it, you will see how this beverage is present in almost every moment of your daily life. You go to the office, and you surely find a cup of coffee. You have a meeting with friends and it is always present. 
For this reason, you should choose an option that, besides being the most delicious, is environmentally friendly. After tasting many varieties, you will realize why Puerto Rico coffee is the most delicious coffee you will ever taste in your life.
Origin of coffee in Puerto Rico
This popular beverage dates back to the 18th century after the Spanish conquests in Central America, and today Puerto Rican coffee is the most popular in the Caribbean.
It came from Santo Domingo in 1736 and during the following years, it expanded its production to the entire island. 
Puerto Rican coffee grows in the mountains of central Puerto Rico from Orocovis to Mayagüez, including Lares, Adjuntas, Maricao, San Sebastián, Las Marías, Jayuya, Utuado, Uroyan, Ciales, Yauco, Ponce and Aguas Buenas.
The Central American island is one of the world's main producers of this grain. One of the main growing areas is located at an altitude of 2300 feet in the Uroyan Mountains in the west of the country.
The nutrients of the volcanic soil make Puerto Rican coffee one of the most demanded for its luxury gourmet characteristics.
The process of harvesting and subsequent roasting of the coffee beans also plays an important role, allowing it to reach the highest quality standards. Caribbean coffee achieved such repercussion and fame that it was even the exclusive drink of the Pope and the Royal Courts of Europe.
Types of Puerto Rico coffee
Currently, among the types of coffee beans harvested in Puerto Rico, the most popular is Arabica, characterized for being sweeter and chocolatey. 
Its most popular varieties are Boubon, Typica, Pacas and Catimor. You can find artisanal options, and hand-picked to guarantee a unique taste.
Arabica vs Robusta Coffee
They are probably the two most popular types of coffee in the world, and you may ask yourself how does it change? Aren't they all similar? The answer is No! They are completely different. 
We will begin by talking about Robusta coffee. This plant is much larger. It can reach a height of up to 6 meters. It is one of the strongest types of coffee, reaching a percentage of 2.5% of caffeine. Therefore, it will tend to have a much more bitter taste.
This is a much easier plant to grow and care for. It doesn't need to be in an ideal climate or have a certain percentage of rainfall. This has allowed its cultivation to expand to more places and to be cheaper. The downside is that it is a "lower quality" coffee with fewer flavor nuances. 
Puerto Rican coffee is of the Arabica bean. The Caribbean provides the ideal climate for its cultivation since it needs to be at high altitudes. It is a mild coffee with a maximum caffeine content of 1.5%. 
Cultivation occurs at altitudes above 900 meters. Temperature is a very important factor. Between 17 and 22 degrees, Celsius is ideal. 
This plant requires much more care, and for this reason, its cost can be higher than that of the Robusta class. On the positive side, it will be a much healthier and tastier coffee. 
Arabica coffee contains more oils and natural sugars. It has a fruitier and sweeter flavor as opposed to the intensely bitter Robusta coffee.
Puerto Rico Coffee Tour
In addition to having some of the most beautiful beaches in the world, Puerto Rico's coffee attracts hundreds of tourists every year.
Whether to visit coffee shops and acquire new suppliers or to try the different options and choose the most popular coffee brands to take home. 
If you travel to Puerto Rico and want to know the best plantations in the Caribbean, you should not miss these:
Hacienda Buenas vista
It is one of the largest coffee plantations in Puerto Rico. It has been on the island since the 19th century and has 87 acres. Today it functions as a museum. You can visit the plantations and see the stables with horses, the old mills and the typical houses of the area.
Hacienda 3 Angeles
Located in the city of Adjuntas, this hacienda is another of the great plantations that you can find on the Puerto Rico coffee tour. Here you will be able to see up close the process of production, care, and processing of the bean. A plus is that you will enjoy the scenery in the middle of the mountains.
Hacienda Gran Batey
It is one of the newest, founded in 2003. It is located in Utuado and produces Arabica coffee upon request. Its owners use unconventional techniques for the processing of the bean, making it very famous in the area. If you would like to see what the coffee manufacturing process was like several years ago, this visit will be a good option.
Hacienda Pomarrosa
It is located at 3,000 meters above sea level in the mountains of Ponce.
You will be able to enjoy a double passage: the mountain and to see the Caribbean Sea.
This plantation was founded in 1995 and produces a perfect gourmet coffee.
The advantage of this hacienda is that in addition to offering a tour of its plantations, it has lodges for those who want to spend a few days in the middle of the mountains.
Hacienda San Pedro
You will be able to enjoy it on weekends. It has a small museum and a cafeteria where you can enjoy its specialties.
It is located in Jayuya and has guided tours where they show the different processes the coffee goes through before being sold.
Hacienda Monte Alto
Like Hacienda 3 Angeles, Monte Alto has been located in the Adjuntas region since 1978.
You will be able to learn about their 100% organic farming techniques.
It is characterized for being an area where, in addition to coffee plants, there is innumerable vegetation.
You can find more than one native animal roaming the area.
In addition to the production haciendas, if you are a coffee lover you should not miss these places:
Museo del Café in Ciales
A small museum that offers a great description of the history of coffee in Puerto Rico. More detailed information here.
Expo Café y Chocolate
September 28-29 at the Puerto Rico Convention Center. The event will feature more than 100 exhibition spaces, workshops, conferences, tastings and demonstrations by professionals in the coffee and chocolate industries.
Maricao Coffee Festival
Annual festival, usually the second weekend in February (but check dates to be sure).
There are 2 companies in Puerto Rico that organize specialized trips for coffee lovers:
1- Specialty coffee tasting tour: this tour is offered by the folks at Flavours of San Juan. It is a one-hour. introduction to coffee and takes place in Old San Juan.
2- La Ruta del Café: this day tour travels the coffee route. Operated by AdvenTours
Puerto Rico coffee processing
One of the characteristics that make Puerto Rican coffee so distinguished worldwide is its processing.
Being a mass consumption product, many companies use industrialized methods to obtain a coffee suitable for sale. This is something that does not occur on the island. Caribbean coffee goes through a completely natural and artisanal process.
Many companies choose to meticulously hand-pick the beans. Although time-consuming, it ensures that the best possible product is obtained. In this process, the beans are classified and those that are not of good quality are discarded.
Once this first step is completed, each ripe bean undergoes a process, often done manually, where the pulp and husk are separated from the bean.
Finally, the beans are placed on large trays for subsequent drying in specialized ovens. Many Puerto Rican coffee brands opt for natural sun drying, such as Tesoro del Sol or San Pedro. This guarantees a more natural and healthy finish. 
Finally, the last step is sorting by color, size and weight and then packaging.
Top 10 of the best Puerto Rico coffees
Among the main characteristics that make Puerto Rican coffee, a unique beverage are its aroma and flavor. It has a mixture between the sweetness of chocolate and the neutrality provided by the nuts. 
After learning about the process and the varieties that you can find on the island, surely you have the desire to try the best coffee in Puerto Rico. That's why we leave you with the 10 best brands of coffee on the island:
1. Tesoro del Sol: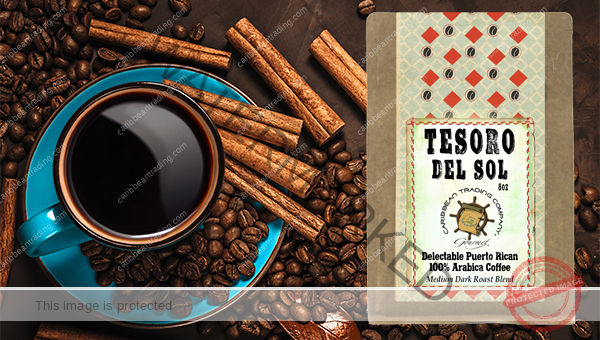 Tesoro del Sol freshly roasted ground coffee is produced at the top of the Uroyan Mountains. Among Puerto Rican coffee brands, it is one of the healthiest and tastiest.
It has an environmentally friendly production process. The producing farm doesn't use pesticides and the coffee is harvested by hand after a natural maturation process. Drying and storage are carried out under strict quality standards. 
Tesoro del Sol coffee is 100% Arabica and has a smooth flavor that will remind you of the best of the Caribbean.
2. Di Laris. 
Produced in the Lealtad hacienda since 1830, it is a kosher product that preserves the traditional flavor of Puerto Rican coffee. 
The plantation is in the shade, about 400 meters above sea level. The coffee beans dry in the sun and are then roasted in a dark press. 
It bears the name "Di Laris, in honor of the way of speaking of the inhabitants of Lares. This coffee is ideal for those who like to accompany it with milk. 
3. Cuatro Sombras
This coffee is 100% Arabica. Grown in the middle of the Yauco mountains at an altitude of more than 1000 meters above sea level. 
Like many others, they use a sun-drying process. It is then storage under controlled climatic conditions until it is time for grading. Its main characteristic is acidity with a touch of caramel and spice. 
This coffee is made on a farm that has belonged to the same family for several years. 
4. San Pedro
You can find it in many coffee shops in Puerto Rico. It comes from the mountains of Jayuya for more than four generations. It is one of the sweetest coffees you will find on the island, with options flavored with sage and rosemary. 
San Pedro coffee is also grown and picked by hand. The drying process is extremely artisanal. It has the same way it was done 100 years ago.
5. Puta Madre
Although its name may sound bad in some regions of Latin America, its flavor does not. It is one of the most popular Puerto Rico coffee. 
It is grown in one of the highest altitude regions of the island, the Adjuntas region. Its peculiar name comes from the expression of an Andalusian when he tasted this coffee for the first time. 
6. Don Ruiz
Don Ruiz coffee is part of a family company for four generations. Its plantation is located in the mountains of Yauco at more than 3000 meters above sea level.
The entire process, from cultivation to drying and sorting, is manually carried out. It is one of the best-selling brands of Puerto Rican coffee on the island.
It is one of the coffee companies qualified as "nature friendly". Using ecological tools that recycle water and reduce CO2 emissions during the drying process. 
The Don Ruiz hacienda also has a museum where you can learn more about the history of Puerto Rican coffee and the island's customs.
7. Lareño
Like many Puerto Rican companies, this coffee has been produced for several generations by the same family. It has been located in the Lares region since 1989 and has a policy of making a 100% handmade product.
The planting and care of the plants are done by farmers. These same farmers will be in charge of harvesting, washing and preparing the beans for later roasting.
8. Yaucono
The origin of this brand was in Miramar, in 1896 by Miguel Ruiz, a local farmer who fell in love with this industry. 
After his death, and to continue with the family business, in 1916 they bought the Yaucono brand. 
This Puerto Rican coffee has an intense flavor and aroma. Ideal for those who like a strong drink in the morning.
9. Café Rico
This coffee cooperative was founded in 1924 and is one of the only brands of coffee in Puerto Rico that is vacuum-packed. 
This technique helps to preserve the intense aroma of the coffee. Its headquarters are located in Ponce, on the southern coast of the island. 
The company has the only coffee tasting and cupping laboratory on the island.
10. Salomé
It is a 100% Arabica coffee. Its main plantation is located in the agricultural region of the center-north of the island. 
It is one of the most ecological coffee options. The beans are processing in a mill that uses rainwater. Free of agrochemicals. The beans drying is done in silos at low temperatures for 22 hours.
The final step of selecting the size and weight of the beans is very careful. It has a relatively mild flavor with a mixture of sweetness and acidity.  
If you visit the Caribbean you cannot miss these coffees. You will be able to taste the most varied options and choose the one that best suits your palate.

The Perks of Brewing Puerto Rican Coffee with a Coffee Sock
Typically, making coffee at home is done with the help of a Black & Decker coffee pot, or some other contraption that requires the use of fussy filters and burners. To make coffee the Puerto Rican way, all one needs is a saucepan and a coffee sock. Ran out of coffee filters? No worries, a washable and re-usable coffee sock works just as great and at $3, saves you money while reducing paper waste. Talk about a green cup of coffee.
Simple steps to brewing coffee the Puerto Rican way:
Pour 1 cup of water for each cup of coffee you wish to make into a saucepan.
Bring to water to a nice simmer and be careful not to bring it to a rolling boil.
Once water is simmering, add 1 heaping teaspoon of ground coffee for every desired cup into the saucepan.
Stir for about a minute make sure the water stays at a simmer and never comes to a boil.
Remove from heat and let coffee stew and brew for about a minute. Stir.
To remove the coffee grinds, strain the mixture using a coffee sock.
If you like your coffee pure (black), you can strain directly into a cup. However, if you like your coffee with milk and sugar, I recommend you try the following:
Strain coffee into a large pot (temporary holding pot)
Return the sauce pan to the burner and add a ¼ cup of milk and 1 teaspoon of sugar for every cup of coffee.
Heat up the milk until it starts to foam around the edges and stir regularly to help dissolve the sugar.
Pour the coffee out of its temporary holding pot back into the saucepan and bring mixture to a simmer Since you already strained the coffee with the coffee sock, now all you need to do is pour directly into cups and enjoy.
To add some excitement to your brew, try making a pot with freshly ground coffee beans using a tabletop grinder. Or if you prefer to go the pre-grounded route with Tesoro del Sol Coffee.
How to Drink Coffee in Puerto Rico:
Puerto Rican coffee traditionally is served three ways, all in small cups.  There is no super-sizing or icing; it is all about strength:
Expreso: Brewed in an espresso machine and usually taken black.
Cortadito:  An expresso layered with steamed milk.
Café con leche: Like a latte, served with warm milk.
There are several ways to get your coffee fix while in Puerto Rico….
Coffee Houses and Shops
In recent years, artisanal coffee and coffeehouses have become more popular and so there are several coffeehouses and shops in Puerto Rico where the coffee drinker can experience the rich tradition of Puerto Rican coffee.
Caribbean Trading Company – Rio Grande and Rincon:  Offering its own brand of Arabica coffee bought directly from the local farm, this coffee offers a wonderfully smooth flavor.  Free daily tastings are available in-store and whole bean and ground are available, along with many other local brands.
Old San Juan: This area has recently filled up with coffee houses with certified baristas, serving authentic quality Puerto Rican coffee straight from the farm.
Aromas Café – Old San Juan:
Café Poetica – Old San Juan: This shop has the feel of a writer's den and is perfect for relaxing and reading the paper or working in a project.
Cuatro Sombras – Old San Juan:
Caficultura – Old San Juan:
PRTea – Old San Juan: featuring their own coffee and tea blends.
 Café Cola'o – Old san Juan Cruise Pier
FAQS
Why is Puerto Rican coffee different from conventional coffee?
Puerto Rican coffee is 100% Arabica. This means that there are no traces of robusta coffee within its components. This difference is noticeable in the flavor and body of the coffee. It is smoother and less bitter than the typical supermarket coffee. 
In the area of gastronomy, it is usually referred to as gourmet coffee. Not only because of its characteristic flavor but also because of the elaboration process. It requires special climatic conditions and cares that other conventional don't have. 
How do I know if the product I bought is authentic Puerto Rican coffee?
Just look at the packaging. You must make sure that it is 100% Arabica beans. Although it may seem obvious, many companies use the slogan "arabica coffee" but if you read the label you will see that it is a blend of arabica and robusta.
Besides having this main component, authentic Puerto Rican coffee will have an artisanal elaboration process. This will guarantee the preservation of its qualities. 
For more tips on how to buy the best coffee, click here.
Is Puerto Rican coffee a healthy beverage?
Being a coffee with a lower percentage of caffeine than the conventional one, it will be friendlier to your stomach. 
Caffeine is the main responsible for the bitter taste of this beverage. Arabica coffee, having such a low percentage, will be less intense and therefore will help to avoid heartburn. 
Are all Puerto Rican coffees the same?
Although they all have the main characteristic of being 100% Arabica, the flavor will change according to the manufacturing process. 
You should pay attention to the type of irrigation given to the plant, if the drying is done with machines or in the sun, and if the storage is under optimum conditions. The more natural the process, the richer the coffee will be.
Should I add any sweetener?
Unlike other varieties, Puerto Rican coffee has a less bitter taste. You can perceive a mixture of chocolate and the sweetness of the fruit. It is a smooth coffee. 
Even so, you can always add a sweetener of your preference. Our advice is that before sweetening it, taste it. You will see that it is not like any other coffee you have tasted before. 
How to buy Puerto Rico coffee from anywhere in the world
If you live in another country and want to have the best of Puerto Rico coffee at home, you can make your purchase online and receive it from the comfort of your own home. Once you try it, you will never want to buy conventional coffee again. In the Caribbean Trading online shop we have a whole category of select coffees.