Long before founding Caribbean Trading Company, Tim Collins began his journey to life in the islands. His point of departure was Wisconsin. Tim moved southward to work in the resort pool and beach business, first in Florida and then throughout the Caribbean. Over the course of 20 years, it became crystal-clear – like the tranquil sea waters – that Tim wanted to raise his family and build his business in the Caribbean.
Tim's best friend had a gift shop on Palomino Island, the private island of the El Conquistador Resort. When the friend returned to the States, Tim took over and quickly saw the opportunity of the incentive group business. In 1998, Tim opened Caribbean Trading Company in Rio Grande, Puerto Rico.
Not long after getting their feet wet, the CTC crew expanded to all of the resorts in Puerto Rico and then throughout the entire Caribbean, serving literally thousands of incentive groups and hundreds of Fortune 500 companies.
In 2005, Tim purchased a building at the base of the El Yunque Rainforest; housing both the company store and CTC's corporate headquarters. The next phase of the firm's development was the launch of the Caribbean Trading Company brand of products offered in CTC retail stores, to corporate clients, and online. The line took off, and today, the brand is distributed at other shops as well as CTC branches.
Tim continues to love and share the sights, sounds and tastes of the islands through Caribbean Trading Company.
In the words of founder/owner Tim Collins:
Let me tell you a story. It's about a normal everyday guy who decided to do what so many people only dream about. I moved to the Caribbean. Now that I live and work here, and travel throughout the islands, I have the joy of sharing this lifestyle and its flavors with you.
If you had to choose between islands where you'd want to live, it wouldn't be easy. I decided to hang my hat in Puerto Rico. It's enchanting – beautiful, geographically diverse, rich with history, culture, and the warmth and friendliness of the Puerto Rican people.
I founded Caribbean Trading Company and recruited a great crew that brings you the best specialty products from the Caribbean and beyond.
Tim Collins (Captain Tim, Ruler of the High Seas, Finder of the Goodies)
About Caribbean Trading – What We Do & Where to Find Us
Our Stores
Caribbean Trading Company Store – El Yunque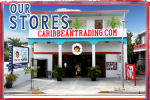 – When you come to Puerto Rico, visit our Company Store in Palmer, Rio Grande right at the base of El Yunque National Forest, located in the rugged Sierra de Luquillo, 40 km southeast of San Juan (latitude 18º 19' N, longitude 65º 45'W).  Learn More
Caribbean Trading Rincon – Located just off the Plaza in Rincon, you will find everything you need to remember your trip to Rincon and the west coast of Puerto Rico.
Island Outpost Gift Shop – *Currently Closed due to Hurricane Maria recovery* Or perhaps it may be easier sailing to our store on Palomino Island, the private Island of the El Conquistador resort, in Fajardo, Puerto Rico. (latitude 18º 45' N, longitude 65º 83'W).
Corporate Group Sales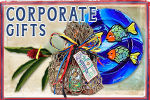 Our dedication to Group Services began in 1998, and in the last 14 years we have served hundred of groups.  We partner with all of the major resorts and DMC's on the island of Puerto Rico, but also operate group programs in the Caribbean and throughout the world!
We work with local artisans and suppliers in each destination to provide authentic local gifts and promotional products; offering a full range of logo's and personalized gift items – from bags and towels to lanyards and keychains. We are members of the Puerto Rico Convention Bureau (PRCB) and Advertising Specialty Institute (ASI).
Learn more about our Corporate Gift Services.  If you are ready for a customized proposal of Creative Gift Solutions, request an RFP here.
Wholesale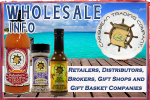 Here in the Caribbean, island living is a thing we know and love, all year round. Exotic fruits and vegetables are always in season, our tables are swimming in fresh zesty flavors, and bright and bold colors contrast against white sandy beaches. Our Caribbean Trading Company brand of products incorporates the lush flavors and fragrances of the Caribbean and Puerto Rico. Enjoy a bit of island living no matter where you are!  If you are interested in carrying our line of products, visit it our Wholesale Information Page.
Online Shop
We aim to deliver the Caribbean to your doorstep!  Our online shop is stocked full of Caribbean goodies and we are constantly adding more.  We ship all orders within 48 hours of receiving them and we work diligently to control back-orders and out-of-stocks.  Shop Online
Caribbean Trading Company
Calle Principal #4
Palmer, Rio Grande, Puerto Rico 00721
787-888-2762 or 800-576-1770
Email: [email protected]