On your vacation, be sure to try these local Puerto Rico foods.  A collision of Latin and Caribbean culture, nowhere is Puerto Rico's roots more evident than in the family-owned restaurants and street-side stands that serve up it's national dishes. Puerto Rican food, or comida criolla, as the locals call it, is an intoxicating blend of indigenous flavors, with traces of African, European and even Asian influence.
No matter how long your trip, you owe it to yourself to find time to enjoy the unique flavors of these local Puerto Rico foods that make up the heart of the island. And when you've fallen in love with the taste of Puerto Rico – Caribbean Trading will be here waiting to bring you all the flavors you love. So what's on the menu?
Lechón
Lechón is the king of can't miss Puerto Rican fare. We're talking miss-your-flight-home worthy. A loved local tradition, a smoldering whole pig is slowly roasted over a bed of hot charcoal, turning out plate after plate of tender, savory pork blanketed by crisp and crackling skin.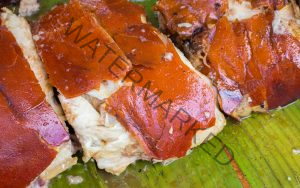 The unofficial, official dish of Puerto Rico, families and tourists alike flock from miles around for the deep flavor – and the festive atmosphere – that a good asado is best known for. What started as a celebratory meal for families around the holidays has gone mainstream, even earning it's own 'Pork Highway,' or Guavate's La Ruta de Lechón, a three-mile stretch of road dotted with dozens of what some claim are the best stops for lechón on the island.
This must-have dish is so good, that's it's even drawn the attention of world cuisine experts like Anthony Bourdain and Andrew Zimmerman, both of whom featured the Pork Highway on their television shows.
Best of all, the open air restaurants that serve Puerto Rico's best lechón are mostly family-run joints, bustling with lively groups of locals, cheap beer and an authentic vibe.
Mofongo
Ask a Puerto Rican what Puerto Ricans eat, and you'll most likely get an enthusiastic "Mofongo!" A simple recipe packed with big flavor, fried green plantains are mashed together with crunchy chicharrones and fresh garlic for a classic Caribbean dish.
Stop into nearly any of the many restaurants lining the streets of Old San Juan and you'll find some variation of mofongo on the menu. Commonly served as a side dish, it can be elevated to a decadent, full-size meal as a pork, shrimp or chicken stuffed mofongo, known by locals as mofongo relleno. Everyone seems to have their own take on this Puerto Rican staple, but all promise an authentic taste of the island.
Tostones
Fried plantains take another form in this exceedingly popular snack. No need to seek out this savory Puerto Rican side dish, as tostones are served as a garnish on nearly every plate. Smashed and fried plantains, tostones are best described as the Puerto Rican french fry.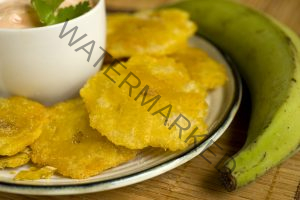 Salty, savory, crispy and perfectly paired with a dipping duo of ketchup and mayonnaise, this local favorite can be found everywhere – from upscale dining rooms to streetside stands. With this dish, the question is less if you'll try tostones and more how many times will you try tostones.
Mallorcas
Puerto Rico's tabletops aren't always awash in savory. Local bakeries churn out soft and chewy pastries, breads and treats that get greedily swooped up on the daily. Everyone has their favorite – and you'll find yours too – but most can agree that few options beat the mallorca. You'll want to make sure you ease into at least one lazy Puerto Rican morning with a one in hand.
Perfect alongside a fresh cup of coffee or even as a midday snack, the mallorca is a knot of airy dough, lightly sweetened and covered in a delicate shower of powdered sugar. Originally from Mallorca, Spain, the mallorca is a nod to the island's past as a Spanish territory. For locals, however, this delicate sweet bread is simply a taste of home.
—
Best of all? This list barely scratches the surface. The best way to dig into every nook and cranny of Puerto Rico's rich and lively cuisine with a food or cocktail tour through San Juan. Get all the sweet, savory and salty, then wash it down with some of the island's (and world's!) finest rum. Now that's how you do Puerto Rico.