There's so much to love about Puerto Rico, so I picked my favorite 12 awesome adventures in Northeast Puerto Rico. Towns like Rio Grande, Palmer, Luquillo, Fajardo, and Ceiba are all found in the northeast corridor and are all approximately 35-45 minutes from San Juan airport. They just keep getting better and better with awesome things to do, see, and eat.
1) ENCOUNTER Turtles, Sting Rays, and Lobsters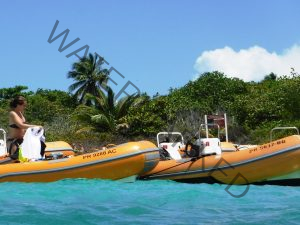 Come face-to-face with turtles and hover past sting rays as blue tang, and colorful snapper swim by. In Marina Puerto Del Rey in Fajardo tour operators will take you out on a catamaran or you can rent a "mini boat" to the best snorkeling spots, some near deserted islands. It's one of my favorite ways to spend the day on and under the water. The tour operators supply everything you need for a fun day.
2) WITNESS a Glowing Blue Bay at Night
Learn the science as to why this is one of the most unique experiences in Puerto Rico. In Las Croabas Fajardo and Vieques there are numerous tour operators who guide you via kayak through the mangrove forest into a vast bio bay. Here you will witness bioluminescent plankton glowing blue. It's a very unique tour everyone should experience.
3) PADDLE to Underwater Sea Life
Near Seven Seas Beach in Fajardo is where you'll find vendors who will set you up with stand up paddle boards or kayaks.  If you've never done it before, don't worry, they'll give you a lesson. Pirate Snorkeling Shack is one of my favorite. They give you a map to the reefs or they'll give you a private tour. The water is calm and clear.  You can hop off your kayak or paddle board and spend time snorkeling. You'll be amazed at what you'll see underwater very close to shore.
4) COOL YOUR JETS from the Summer Heat
On Luquillo and Seven Seas Beaches you can rent jet skis. They're a great way to experience the beach from another perspective while getting your adrenaline rush in northeast Puerto Rico.
5) TAKE A DIP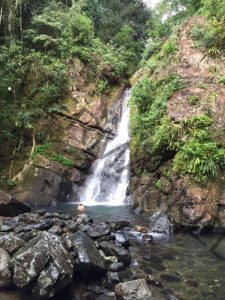 In the heat of the Puerto Rican sun, you need to cool yourself off!  After a hike to La Mina Falls enjoy a cold dip in the water while the waterfall cascades down the rocks and over your head. El Yunque National Forest in Rio Grande, the only tropical rainforest in the U.S. National Forest System, is where you'll find great hiking trails, refreshing waterfalls, and breathtaking views.
6) INDULGE YOUR INNER FOODIE
You'll truly be entertained at the Kiosks in Luquillo.  Over 70 beach front vendors offer local Puerto Rican food such as mofongo, tostones, and pinchos. You can also find that hamburger or pizza, but why?  When in Puerto Rico eat like a local.  The food is delicious. In the evening, many venues have entertainment such as Charlie Sepuvelda, a famous Puerto Rican jazz artist.
7) EARN BRAGGING RIGHTS
You've always wanted to surf, now's the time. Catch a wave at La Pared in Luquillo. There are several surf schools who would be happy to give you a lesson in this northeast Puerto Rico town. With a sandy bottom it's a perfect place to learn to surf.  You'll never forget catching your first wave.
8) ZIP THROUGH THE AIR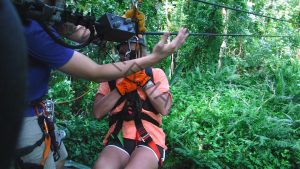 Your friends will be jealous when you tell them about the incredible adventures you had in Puerto Rico.  Zip line tours are available at the base of El Yunque Rain Forest in Rio Grande. You'll be outfitted with everything you need to fly over the treetops.
9) GO ON A WILD RIDE
ATV adventures, horseback riding, and go carts are available at the foothills of El Yunque National Rainforest, Rio Grande.  This area is surrounded by mountains, rivers, and trails which make it perfect terrain for these activities. Puerto Rico's spectacular scenery will amaze you.
10) SPEND TIME SHOPPING
The little town of Palmer, which you go through to get to El Yunque, is a quaint place to stop for a cool drink or a tasty lunch. The town also offers shops featuring hand-made products, artisanal goods, t-shirts, and specialty foods such as hot sauces. Caribbean Trading is my favorite.
11)  GET HANDS ON with Nature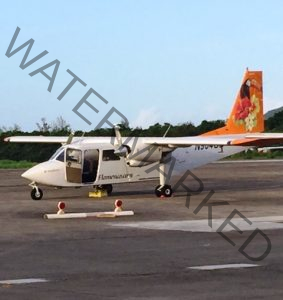 Get hands-on and hold phytoplankton or stroke a sea cucumber. Find out which mango trees make the water red and climb to the top of a 19th century lighthouse for spectacular views of the surrounding islands. La Cabezas de San Juan Nature Reserve in Fajardo will provide you with an interesting and informative tour as you explore the sensitive eco-systems with trained guides. Tours can be booked through the nonprofit organization Para La Naturaleza.
12) FLY OR FERRY to the Spanish Virgin Islands
Take a short flight from Ceiba or a ferry from Fajardo to the islands of Culebra or Vieques.  Both islands have beautiful beaches, but Culebra has one of the world's famous – Flamenco Beach. Soft sand and crystal clear water make it a favorite for many. Tamarindo beach is the best for snorkeling with turtles.  On the island of Vieques is where you'll find one of the two bio bays located on the northeast. Exploring either island is a great way to spend an action packed day of snorkeling, swimming, and exploring.
There's no denying Puerto Rico has plenty things to do and see. The island has numerous coconut trees, too.  If you need a break from snorkeling or zip lining, crack open a coconut and sit on one of the many beautiful beaches with the warm crystal blue water lapping at your feet.
This post was written by Sandy Ruyack, President of Write Choice Marketing a marketing firm dedicated to raising funds for nonprofit organizations.  She's also an avid blogger with a passion for Puerto Rico and the Caribbean Islands. Her blog Boulevards and Byways inspires others to take the road less traveled with unique things to do and tasty places to eat. She's always available to write travel related marketing materials for tourism boards and tour companies. Stay up to date by following Boulevards and Byways on: Facebook   Pinterest   Instagram