Did you know that Puerto Rico has excellent surfing – year round? With an average of 80 degrees in the water, and over 15 reliable surfing locations, if you are looking for some surf Puerto Rico is a great place to come to!
The west coast gets a lot of attention – Rincon and Aguadilla are known for their monstrous waves and many of the larger competitions are held there, but you can also find excellent surfing on the east coast as well – particularly in Luquillo. Luquillo is known for its consistent waves year round.
How many surf spots are there in Puerto Rico? Check out this map from the folks at WannaSurf: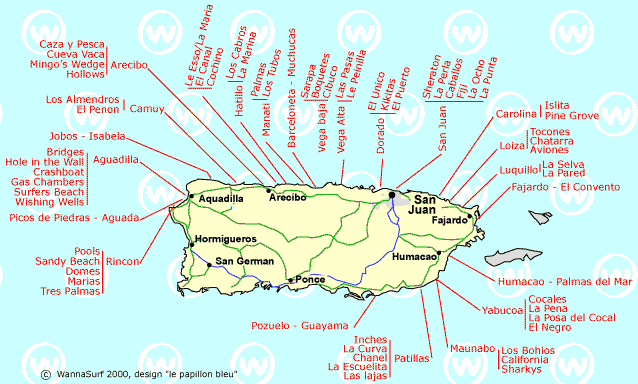 For a detailed listing of the various surf spots, along with their degree of difficulty and how they break, go on over to WannaSurf for more details.
If you are interested in surfing the western coast of Puerto Rico, this website will give you a lot of good information about it:
https://www.surfingpuertorico.org/
If you are interested in surfing the east coast, head on over to Bob's for lessons and rentals here: https://rainforestrental.com/surfing.php