Today is December, 26th, and the Christmas season is just getting started here in Puerto Rico. As a child growing up in the states, I would anxiously await Christmas Day, knowing that the festivities would all be over on the 26th.  It is really fun to extend the celebrations past the New Year by celebrating Three Kings Day.  Why not, right?
How does Three Kings Day Work?
The gifts that are placed in the hay manger on Three Kings Day are meant to be small.  This is a holiday that does not have the commercialization that Christmas does. So the pressure is off!
Here in Puerto Rico, January, 6, also known as Three Kings Day, is the big day during the Christmas season. This is the day when children receive gifts. Instead of leaving the traditional milk and cookies for Santa, they leave water and hay for the King's camels. The whole Island seems to shut down, and the day revolves around spending time with family.
A Favorite Symbol of Local Artists
It is a true blessing to get to display many beautiful pieces of local art. One artist that stands out on Three Kings Day is Guillermo Nuñez. Guillermo creates beautiful ceramic pieces featuring the Three Kings. We have many of these pieces at our El Yunque location. Guillermo has been creating art in Old San Juan for over 30-years. Many of his pieces focus on the Three Kings. It has been a true gift to get to know so many amazing artists like Guillermo Nuñez, and display their beautiful pieces in our store.  As we start off the year 2020, I am reflecting on all of the great artists we have worked with over the years and am pleased to share some of the Three Kings Day magic with our visitors and customers.
I am very happy that I get to continue the season of giving. Happy Three Kings Day from my family to yours.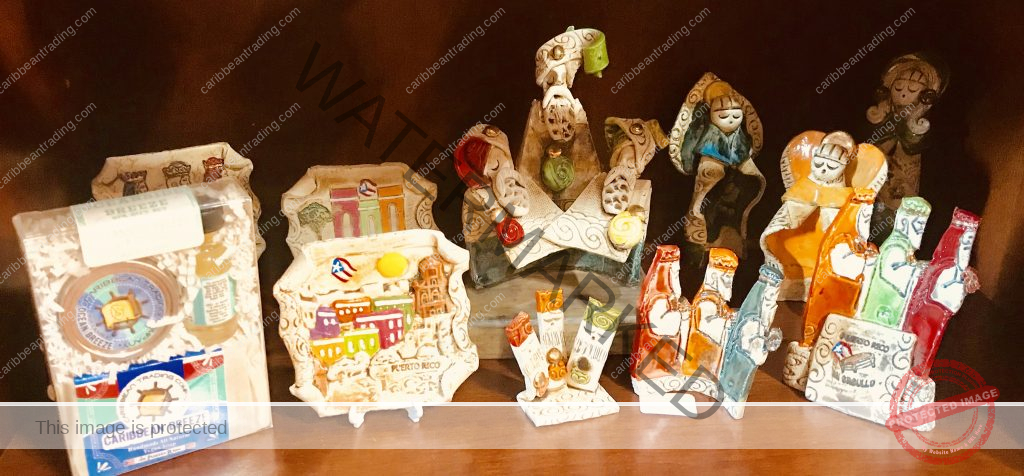 This article was written by Captain Tim and the Crew of Caribbean Trading Company.
Looking to add a bit of Caribbean flair to your life? Check out our online shop  for gourmet hot sauces, seasonings and other Caribbean treats and Caribbean bath and body items.
Liked this article? Join the Crew and Start the Journey! Connect with Us for News, Events, Lifestyle, and all things Caribbean by joining our Newsletter – Click Here to Join or find us on Facebook or Instagram.