The tradition of Puerto Rican Cigars reaches far into the past, where, hundreds of years ago on the Island of Enchantment, native Taino Indians cultivated the majestic tobacco leaf to produce a hand-rolled tube of cured tobacco, which they named sikar. The term Sikar was then taken immediately into the Spanish language as cigarro. Snuff was all the rage in Europe in the 1450s. With the arrival of cigarros, Puerto Rican tobacco became the ultimate luxury of the royalty in Europe for almost two hundred years! More than half the shipping tonnage between 1460 and 1660 contained cigars from Puerto Rico.
Although tobacco is cultivated in about 120 climatically diverse countries and as far north as latitude 50°, the finer, marketable tobacco products come from only a few select regions. The Caribbean is known as on if the finest!  
Visit the Museum:
You can learn more about the history of Cigars in Puerto Rico by visiting the Museo de Tobacco in Caguas. Tobacco growing, cutting, drying and processing was once an economic mainstay of Caguas and this museum offers a history of all of it. There is a reconstruction of a tobacco ranch and tobacco rolling demonstrations.
Location: Betances 87 cnr Luis Padial
Telephone : +1 787 744 8833
Hours: 9am-noon & 1-5pm Tue-Sat
Explore the Tobacco Region of Puerto Rico: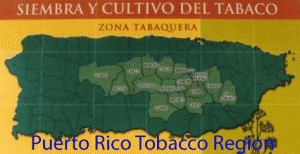 Where to Buy Puerto Rican Cigars:
You can always find hand-rolled cigars at any of the island festivals, but here are some reliable sources:
Online:
Caribbean Trading's Captain's Choice Premium Caribbean Cigars were hand selected by the Captain himself. It was incredibly important that the family that produced the cigars were dedicated to producing high quality, hand selected and rolled by skilled hands to provide you the quality that we put our name on. Please enjoy our labor of love.
Old San Juan
Don Collins
Dollhouse
Cigar House
Eastern Area:
Western Area:
Learn More about Tobacco in Puerto Rico:
The history of tobacco cultivation in Puerto Rico, 1899–1940 h