When in Puerto Rico, consider a visit to the Humacao Reserve in Humacao Puerto Rico!  It is not well-advertised or promoted but it is totally worth a trip!  The reserve is located on the southeast coast of Puerto Rico, Rio Abajo neighborhood, kilometer 74.3 on PR-3.  It offers a little bit of everything: lagoons, beaches, swamps and mangroves.  There are several businesses there offering support services that include walking tours, kayak and bike rental, along with a small cafe and gift shop.
Hours:
Wednesday to Sunday and Holidays
9am – 5pm
787-852-6058
A little History:
The original wetlands were drained at the beginning of the last century for sugar cane farming and cattle grazing.  This was accomplished through a system of levees, canals and a pumping station.  On the trail toward the beach, you will see the remains of this system.  Heavy rains from Hurricane David in 1979 flooded the area and breached the levees.  Water filled the former basin forming the actual lagoons, and many groups came together to have it remain in its natural original state.  You will also find old pill box bunkers from World War II, along with great fishing and activities there.  Here is a basic map of the Reserve: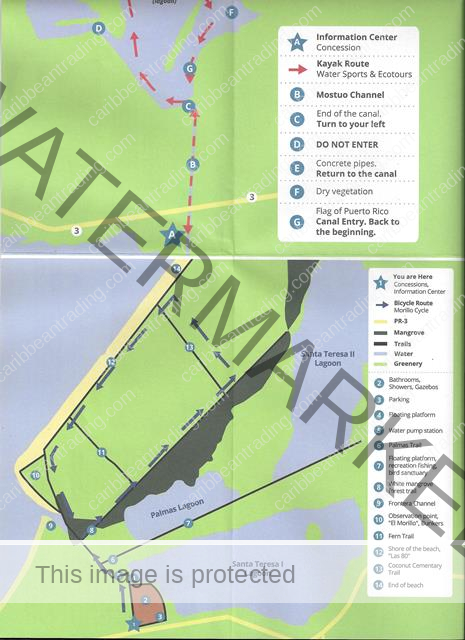 This article was written by Captain Tim and the Crew of Caribbean Trading Company.
Liked this article? Join the Crew and Start the Journey! Connect with Us for News, Events, Lifestyle, and all things Caribbean by joining our Newsletter – Click Here to Join or find us on Facebook or Instagram.