The surf season in Puerto Rico is practically year-round starting in late summer and stretching into early spring. In prime position to receive the best waves in all of the Caribbean, Puerto Rico has long since been a popular destination for surfers. Although every coast of Puerto Rico boasts ideal surfing conditions, it is the north western tip of the island that pulls in surf fanatics from around the world with enticing winter swells.
Of the more popular places to surf in Puerto Rico, Aguadilla is at the top of the list. With beautiful tropical surroundings, crystal clear waters and beaches that cater to surfers of all skill levels it's no wonder why Aguadilla is on the bucket list of many aquatic enthusiasts. Whether you are a seasoned surfer or a first-time paddler, you are sure find the surf that best suits your skill level at any one of Aguadilla's many beaches. Just to name a few:
• Surfer's Beach*
• Crash Boat*
• Bridges*
• Schoolyards**
• Rompleolas***
• Table Tops****
• Wilderness****
• Gas Chambers*****
Skill Rating
*Surfers of all levels
**Good for non-first timer surfers
***Recommended for those with moderate surfing skills
****Good for experienced surfers
*****Recommended only for extremely experienced surfers
Make time for other locations for surfing Puerto Rico. Check out this map from the folks at WannaSurf: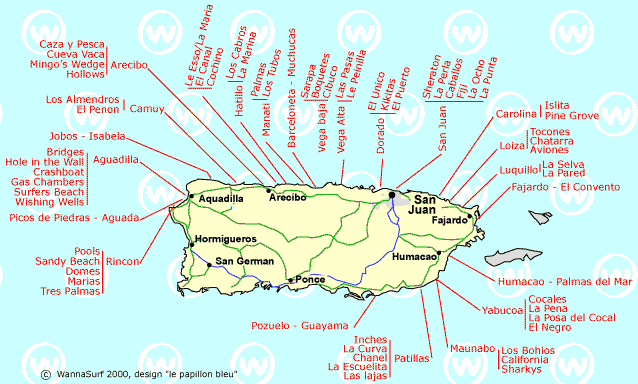 For a detailed listing of the various surf spots, along with their degree of difficulty and how they break, go on over to WannaSurf for more details.
Surfing Puerto Rico West Coast:
If you are interested in surfing the western coast of Puerto Rico, this website will give you a lot of good information about it:
https://www.surfingpuertorico.org/
Visit Caribbean Trading Rincon for all of your beach needs.
Surfing Puerto Rico East Coast:
If you are interested in surfing the east coast, head on over to Bob's for lessons and rentals here: https://rainforestrental.com/surfing.php
Visit Caribbean Trading El Yunque for all of your beach needs.
Forgot to get a souvenir of your surfing adventure?  Visit our online shop: