When planning a memorable family vacation, Puerto Rico is an enticing choice that offers a blend of culture, adventure, and relaxation. Located in the heart of the Caribbean, the Island of Enchantment is not just a tropical paradise but an ideal place to seek diverse experiences.
Benefits of Choosing All-Inclusive Resorts in Puerto Rico
One of the critical decisions families face when planning a trip to Puerto Rico is whether to opt for an all-inclusive resort or go the a la carte route. All-inclusive resorts have become increasingly popular for families due to their numerous benefits. These benefits include:
Budget-friendly travel: All-inclusive packages often include meals, drinks, activities, and more in the upfront cost, allowing families to have better control over their budget.
Convenience: With meals, entertainment, and recreational activities available on-site, families can spend more quality time together without worrying about the logistics of planning each day.
Variety of amenities: Most all-inclusive resorts offer a wide range of amenities, from pools and water parks to kids' clubs and spa facilities, ensuring every family member finds something enjoyable.
Safety and security: resorts often provide a secure and controlled environment, which can be reassuring for parents traveling with young children.
These things make any Puerto Rico all-inclusive family resort the perfect choice for prominent families to spend their holidays together.
Top All-Inclusive Family Resort Options in Puerto Rico
The Caribbean island of Puerto Rico boasts a selection of all-inclusive resorts tailored to the needs of families. Here are some of the top options:
Wyndham Grand Rio Mar Puerto Rico Golf & Beach Resort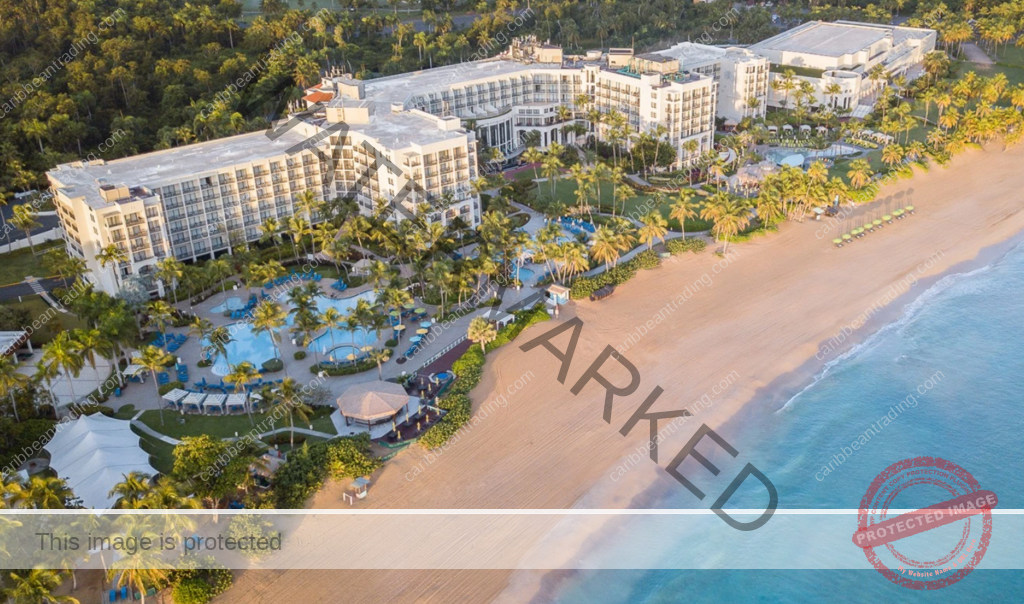 The Wyndham Grand Rio Mar is a luxurious and captivating destination nestled on the northeastern coast of Puerto Rico. This spectacular resort offers guests an unforgettable experience in a stunning natural setting.
The resort boasts an extensive stretch of pristine beachfront, where guests can bask in the sun and swim in the crystal-clear waters of the Atlantic Ocean. There are also plenty of water sports and activities for kids and families.
The resort's luxurious spa provides a sanctuary of wellness and rejuvenation for those seeking relaxation. Guests can enjoy various spa treatments and therapies, including massages, facials, and body treatments, to help unwind and revitalize.
Regis Bahia Beach Resort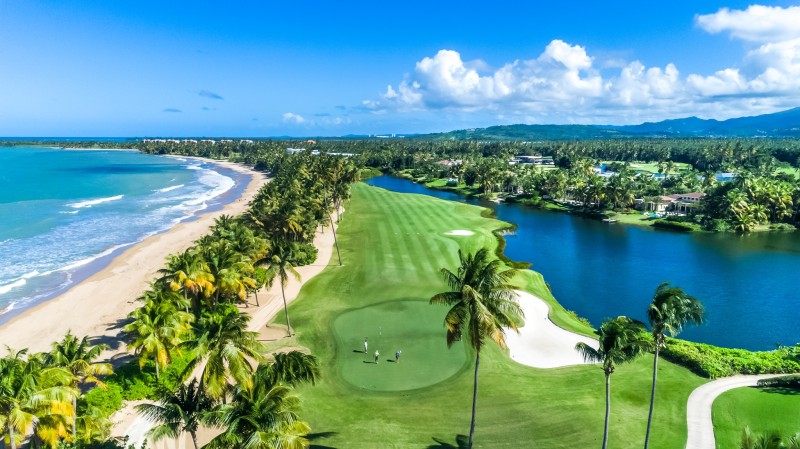 This luxurious and idyllic destination combines the natural beauty of the Caribbean with world-class amenities and hospitality. Nestled on a pristine stretch of shoreline along the northeastern coast of Puerto Rico, this upscale resort offers a tropical paradise for travelers seeking an unforgettable getaway.
In a lush, 483-acre nature reserve, guests are treated to various natural wonders, including beaches, rainforests, and scenic views. This serene environment provides a tranquil escape from the hustle and bustle of daily life, not only for adults but also for their children.
Accommodations at The St. Regis Bahia Beach Resort are nothing short of opulent. The resort offers a variety of guest rooms, suites, and villas, all elegantly appointed and designed to provide the utmost comfort. Many of the accommodations also feature private terraces or balconies.
Caribe Hilton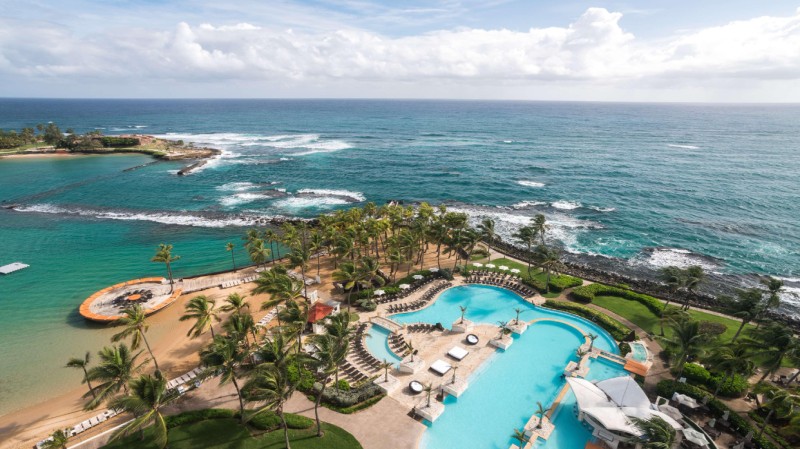 Located in San Juan, the Caribe Hilton has symbolized elegance and hospitality since its opening in 1949.
The Caribe Hilton Hotel is not only known for its natural beauty but also for its outstanding amenities and services. The hotel features over 600 well-appointed guest rooms and suites, each designed with comfort and style.
Guests can indulge in a wide range of culinary experiences at the Caribe Hilton. Multiple on-site restaurants and bars serve local Puerto Rican cuisine and international dishes. From fresh seafood by the beach to enjoying a cocktail at one of the bars, there are plenty of options.
In addition to being a top choice for vacationers, the Caribe Hilton is also a popular venue for weddings, conferences, and special events. Its versatile event spaces, experienced staff, and picturesque backdrop make it an easy choice for many.
El Conquistador Resort, A Waldorf Astoria Resort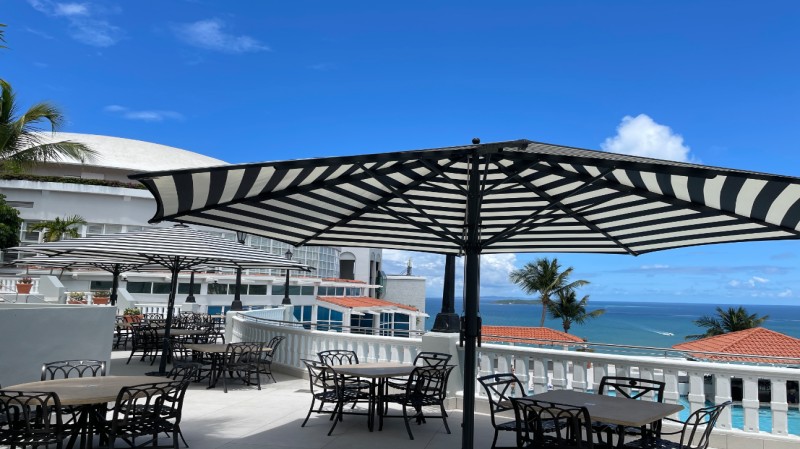 El Conquistador Resort is a luxurious and iconic destination nestled on the northeastern coast of Puerto Rico. It is very well-known for boasting breathtaking panoramic views that create a sense of awe when tourists arrive.
One of the standout features of this resort is the Coqui Water Park, a 2.4-acre aquatic playground with thrilling water slides, a lazy river, and a swim-up bar. This makes El Conquistador an ideal choice for families, offering endless entertainment for children and adults alike.
The place also boasts a private island, Palomino Island, accessible by a short boat ride. This pristine island paradise has a secluded beach, water sports, hiking trails, and horseback riding activities. Guests can escape from the mainland to this secluded and idyllic place.
Accommodation and Room Options for Families
Selecting suitable accommodation is another crucial step for a successful family vacation. Puerto Rico's all-inclusive resorts provide various options to cater to the needs and preferences of different families, including:
Family suites: Many resorts offer spacious suites equipped with separate bedrooms and living areas, ideal for families with children who need their space.
Connecting rooms: Some resorts have connecting rooms to accommodate larger families or groups traveling together while ensuring proximity.
Villas and private residences: Some resorts offer villas or private residences with kitchen facilities for those seeking more privacy and independence.
Oceanfront and garden view rooms: Families can choose rooms based on their desired views, whether it's the tranquil gardens or the breathtaking ocean.
Acquiring one of these will ensure that everyone on the trip feels comfortable when spending the night or day inside the room.
Other Family-Friendly Activities in Puerto Rico
All-inclusive resorts in Puerto Rico pride themselves on providing a wide range of family-friendly activities and amenities:
Swimming Pools and Water Parks
One of the most popular water park options is the Balneario de Carolina, located in the town of Carolina. This beachfront public park boasts a spacious swimming area with calm waters, making it ideal for young children. The place also has picnic areas, playgrounds, and facilities for a family fun day.
Another fantastic option is Las Cascadas Water Park in Aguadilla. This water park features an array of water slides, lazy rivers, and splash zones that cater to kids of all ages. The park's tropical setting adds excitement and enjoyment for families looking to cool off and have a blast together.
Families visiting San Juan can also explore the Escambrón Beach and its adjacent recreational area. The beach area has a designated section for kids with calm, shallow waters. Moreover, the nearby Parque del Tercer Milenio offers a spacious playground, basketball courts, and picnic spots.
Entertainment
Puerto Rico offers many entertainment activities for families and kids, making it an ideal destination for a fun-filled vacation. One of the top attractions is the El Yunque National Forest, where families can explore lush rainforests, hike to waterfalls, and learn about the unique flora and fauna.
Consider visiting the San Juan National Historic Site for a dose of culture and history. Kids can step back in time and explore the well-preserved forts of El Morro and San Cristobal. These forts offer captivating views of the ocean and are a great way to learn about Puerto Rico's colonial past.
The Arecibo Observatory, known for its giant radio telescope, is a fantastic destination for budding scientists. Through interactive exhibits and guided tours, kids can learn about astronomy and space exploration. Plus, the surrounding area offers scenic views and hiking opportunities.
Besides the wide range of outside activities for kids, remember that there are other ways to entertain your kids, especially for those moments when at the hotel. Our stores of Caribbean Trading have a collection of books and stories for the young ones to be entertained and spend hours reading and learning.
Family Dining
Puerto Rico boasts numerous family-friendly restaurants for families with young children that provide a welcoming atmosphere.
Savoring traditional Puerto Rican dishes like mofongo, tostones, and arroz con pollo, which are usually kid-approved, is a must. Places also offer American fare for picky eaters, ensuring everyone in the family finds something they enjoy.
Teenagers and young adults can explore the island's food truck scene, particularly in popular areas like Luquillo Beach and Old San Juan. These sites offer a variety of culinary delights, from empanadas to alcapurrias, providing a fun and affordable way to sample local flavors.
Additionally, the vibrant atmosphere and music playing in the background make it an excellent choice for young adults seeking a casual and social dining experience. There are also plenty of sites to buy souvenirs or other gifts for the whole family, like the ones found in Caribbean Trading.
Conclusion
Puerto Rico's all-inclusive family resorts are captivating. The activities and the opportunities to explore the island's natural beauty and culture that they offer promise an unforgettable experience for your next family getaway.
Whether you're looking to lounge on the beach, embark on thrilling adventures, or immerse yourself in the island's rich history, Puerto Rico has something to offer every family member.