The perfect way to celebrate Tortilla Chips Day (February 24th) is with Tortilla Chips and Salsa!
History of Tortilla Chips
For many decades, tortilla chips have been one of the favorite snacks.  Tortilla chips come from Mexico, where they were originally made from tortillas, though their use was not widespread at first. This delicious snack originally m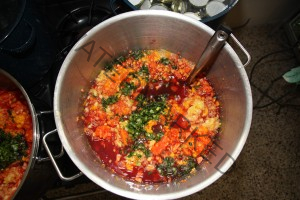 ade its debut in U.S. restaurants and kitchens in the southwest region during the early 1900s. However, tortilla chips first become popular in the U.S. because of a creative restaurant owner living in L.A. In the late 1940s, Rebecca Webb Carranza decided to use the misshapen tortillas from her tortilla factory to create crunchy chips. After being fried, the chips were bagged and sold for ten cents in her Mexican delicatessen in L.A. The snack became so popular that they were mass-produced and sold all over the state within a few years. By the time the 70s rolled around, tortilla chips had become popular all over the country. Tortilla chips eventually surpassed corn chips, the previous favorite snack chip, for the highest sales in the United States. Today, these chips are often paired with salsa and have become a staple for dipping dishes. Two other popular dipping options, guacamole and chili con queso, have retained the Mexican flavors that were first associated with tortilla chips. However, it has become more and more popular to pair tortilla chips with other dips like spinach-artichoke dip and hummus.
Tortilla chips maintained their beloved status, and in 1994 Carranza was the recipient of a Golden Tortilla award for her innovation in the Mexican food industry. In 2003, the state of Texas made the tortilla chip the official state snack!  The widespread use of tortilla chips has also made it possible for different brands of the snack to expand their product line. Tortilla chips are now available in many different delicious varieties of flavored tortilla chips, whether its yellow corn, multi-grain, tomato cilantro or barbecue. In addition to being a delicious snack all on their own, these flavored varieties can also be used to compliment particular dips or foods. Colored chips in red, blue and black varieties are also popular with tortilla chip fans. These tortilla chips add a dash of color to your dishes for family and friends, though the only difference is in the color of corn used to make them, not in the taste.
Making our Artisan Island Fever Salsa
My favorite tortilla chips are the plain variety, lightly salted and super crispy.  They have to be not too thick and not too thin, so they don't break when you are loading up a huge dollop of my favorite; Island Fever Salsa. I most definitely have salsa running through my veins and it unquestionably runs in the family.  My sister has her own line of Cindy's Country Fresh Salsa that is sold throughout Wisconsin.  This is totally fresh and absolutely delicious.  My other siblings also have their own favorite varieties and each of them are worthy of being award winners in their own right. Making the salsa is a true labor of love for me.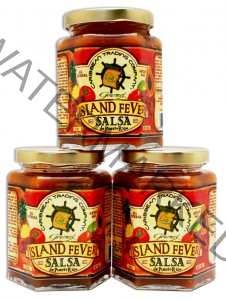 It starts off by selecting fresh mangos, papaya and pineapples.  The trick is trying to find them all at the same degree of ripeness and it usually doesn't happen that way.  I will start out cutting and preparing the ripest fruit, and storing it in stainless steel pots in the refrigerator while I wait a day or two for the rest of the fruit to ripen. Then on the magical day where the salsa gods are smiling down upon me, I then purchase and we prepare the scallions, jalapeño and habañero peppers, cilantro and all of the other goodies.  I use canned diced organic tomatoes as I've found it nearly impossible to get consistently good quality tomatoes in Puerto Rico.
Then the fun begins.  I mix up small artisan batches of (50) 9 ounce jars per batch.  I combine all of the ingredients and never forget to add the special ingredient that my mother insisted went into anything that she cooked.  "You need to add lots of love", she would always tell us. And so it goes.  I also have my jars and caps in boiling water to begin the hot fill canning process that I also learned from my mother.
And this is where our friend, the tortilla chip joins the party.  I take a small scoop of the salsa and place it in a bowl.  Then I open a fresh bag of my favorite tortilla chips and scoop up some of the island fresh goodness so I can tweak the pot with a pinch of this and a pinch of that until the salsa gods make my tongue dance to the beat of the perfect Island Fever Salsa!
Celebrate the holiday with some of my Island Fever Salsa *made with love*:
Liked this article? Join the Crew and Start the Journey! Connect with Us for News, Events, Lifestyle, and all things Caribbean by joining our Newsletter – Click Here to Join or find us on Facebook or Instagram.