Here at Caribbean Trading Company, the Crew is always working hard to source authentic Caribbean gifts and souvenirs.  As such, over the last year or so, the crew has been working with artisans to develop a line of soaps and candles (with more to come soon!).  After hundreds of samples, and 'scenting parties' among the Crew, we finalized our choices for the best fragrances Puerto Rico and the Caribbean have to offer.  We searched long and hard to work with someone that offered a superior quality product with fragrances that felt authentic and true to the Caribbean.  Now available for purchase in our two retail stores and online!
Update 2015: Due to supplier issues, we moved to new products that we are really excited about.  Check the mall out here:
Caribbean Trading Company Mango/Shea Butter Soaps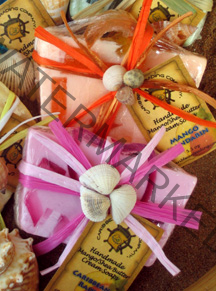 The soaps are made of a Vegan Glycerin base incorporated with Shea and Mango Butters. The soaps are smooth and moisturizing to the skin, and can be used on a daily basis.
Mango Mandarin: A sparkling fruity citrus tropical type with a citrus tangerine mandarin top note and fruity-pulp, melon middle note and sweet musky fruity base note.
Caribbean Rain: Tropical rains bring fresh exotic flowers into bloom while sending their sweet intoxicating aroma through the islands to arise the senses.  The original fragrance worn by surfers in the 60's. Sophisticated classic.
Cancion del Coqui:   A tropical, not too sweet Jasmine with clean under notes. Unusual and exciting!
Tropical Vanilla: The sweet, sugary aroma of fresh vanilla beans.  Long lasting rich and creamy tropical vanilla is accented with sugar notes of mango.
El Yunque Mist:  A tropical breeze of sweet orange flower, lemony citrus, fresh lavender and powdery musk.
Pina Colada: – Pineapple and Coconut with sweet notes of the tropics are highlights of our twist on this classic.
Caribbean Lime Splash: Tart and tangy;  a favorite of male customers
Caribbean Trading Company Candles – Premium Fragrance Soy Candles
These candles are 100% chemical-free vegetable soy wax and embody the frangrances of Puerto Rico and the Caribbean.  Available in 2oz. Travel Tins.  You can purchase them here.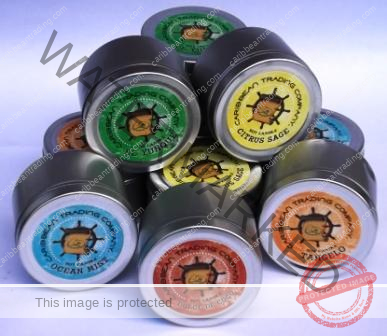 Citrus Sage:  A fresh and breezy scent with fragrance notes of Lemon, Grapefruit & Sage
Tangelo: A citrusy combination of Orange, Tangerine, and Citrus Bergamot.
El Yunque:  Recalling the rainforest florals in bloom in El Yunque.  An uplifting combination of Jasmine, Ylang Ylang, and Gardenia.
Ocean Mist: Reminiscent of tropical breezes, this candle features top notes of Mountain Water, Jasmine, and Honeydew.
Dulce de Coco: A sweet combination of coconut milk and sugar cane.
Azucena:  Featuring the scent of one of Puerto Rico's favorite flowers the Azucena or Tuberose.  With undercurrents of Tropical Jasmine and Black Currant.