Benefits of Coconut Oil for Skin & Hair
If you're one of the few who hasn't yet tried coconut oil, you are missing out on some great benefits that it has to offer, and that's especially true when it comes to your skin and hair. Here's some of the ways you can add coconut oil to your routine to capture the beauty benefits of coconut oil for silky, smooth skin and luxurious locks.
Skin
Coconut oil is rich in vitamins, minerals, and carbohydrates, and is also high in fatty acids. These include a range of saturated fats and short- and medium-chain fatty acids, particularly lauric acid. These fatty acids make coconut oil very hydrating for your skin, and help to protect your skin's barrier by preventing water loss.  Once it is absorbed into your skin, it'll keep it smooth to the touch for a long period of time. Coconut oil makes a wonderful moisturizer for your legs, arms, and elbows.  If you have super-dry skin, applying coconut oil will definitely help rehydrate it.
The best way to benefit from coconut oil for your skin is to apply immediately after showering, when your skin is still moist. This will help trap water into the skin, leaving it supple and smooth with a pretty sheen. Our Caribbean Trading Coconut Body Oil is enriched with vegetable butter and extracts and will instantly rescue your skin from dryness caused by extreme dehydration and intense sun exposure. It naturally softens, smooths and hydrates the skin. This oil will nourish your skin and help promote elasticity, helping to diminish the signs of aging. 
Make Your Own Body Scrub
You can even use coconut oil to make your own body scrub for smooth, glowing skin. It's super easy, and only needs two ingredients!
Mix together:
½ cup of Caribbean Trading Coconut Body Oil
¼ cup granulated sugar. Try Caribbean Trading's gourmet flavored Lime Cane Sugar for a tropical treat (or any of the 5 varieties available)
Lightly rub on arms and legs to exfoliate, leaving skin soft and silky!
Store remaining scrub in a small container or jar to keep on hand for your next bath.
You can use coconut oil on your face, however, this isn't recommended for those with very oily skin.  While it's great for your arms and legs, it's a comedogenic oil, which means it can clog pores due to its occlusive nature. This makes it great for sealing in moisture on your body, but on the face it can also trap dirt and bacteria leading to breakouts. Instead, dot a small amount lightly on areas of your face you'd like to give a little highlight to, like the top of your cheekbones, or massage it into your eyebrows.
Tip: Use coconut oil as a cuticle moisturizer! With all the handwashing we're doing these days, you might find your cuticles are looking a little ragged and dry.  Rub coconut oil directly on top of them and allow it to  penetrate for about 30 minutes. This will help strengthen your cuticles and moisturize the skin around your nails. 
Hair
Another beauty benefit of coconut oil is that it can keep your hair healthy and strong. Coconut oil has long been used to achieve soft, smooth, strong locks and is great for treating dry or damaged hair. Coconut oil contains vitamins and essential fatty acids that nourish both the scalp and hair strands. It helps to keep hair strong, discouraging breakage. 
Shine: Rub a few drops of coconut oil between your hands and smooth over your hair to achieve a beautiful, healthy-looking sheen. 
Conditioning: Coconut oil can help strengthen the hair shaft and prevent breakage. Use it instead of a standard conditioner. To achieve even greater smoothing, add a few drops of coconut oil to your usual conditioner.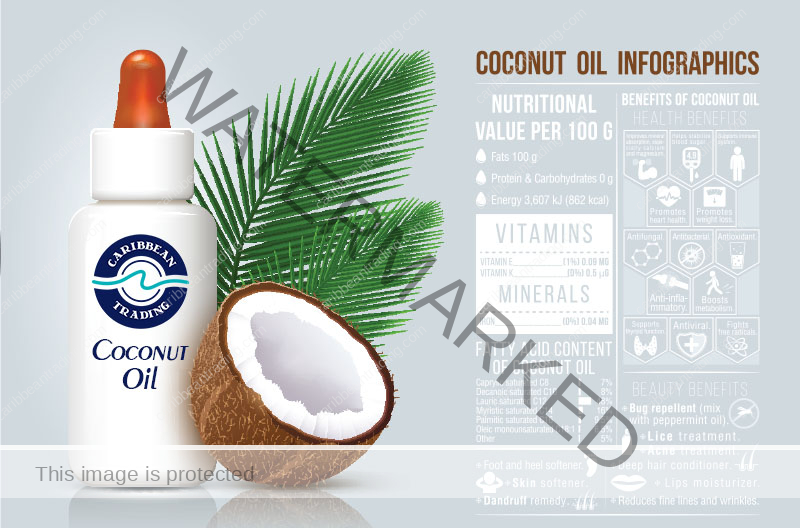 Pre-wash protector: Apply coconut oil approximately 15 to 30 minutes before you wash your hair, and it'll stop your hair from soaking up too much water, which helps with damage and dryness.  Concentrate on the midsection and ends of your hair.
Frizz Fighter:  Useful in moisturizing and preventing frizz by acting as a protective barrier. When applying, only apply about a dime-sized amount of coconut oil to your hair. Too much could weigh your hair down. Check out our Cold Pressed/Triple Filtered Coconut Oil to help tame those frizzies!
Chlorine Combatant: Love to take a dip in the pool, but hate how chlorine makes your hair feel afterwards? Before diving into the pool, coat your hair with coconut oil.  The oil acts as a barrier between your strands and the water.