Take a Tour of Ron de Barrilito.  Ron de Barrilito is a fine Puerto Rican rum that is aged for 6-10 years.  It comes in two versions: a 2 star and a 3 star. Barrilito rum is a perennial bestseller – both in the Caribbean Trading Company Store and for our Corporate and Incentive Gifts.   Why does it outsell the other Puerto Rican rums?  Two reasons:
1. This rum is not available outside of Puerto Rico, so it is a must-have souvenir.
2. This rum is aged perfectly and offers rich flavors and complexity.  It is meant to be sipped – it is the Rum version of a Cognac.
We drive straight to the factory to get our Ron de Barrilito and we are excited to share our recent visit with you as part of our celebration of August 16th's Rum Day.  The rum is still done in smaller batches, and much of the automation found at larger distilleries has yet to be implemented – there is a personal touch and attention to detail and general 'love' for the Rum that, we think, shows itself in the final product.. The history of this aged rum is notable. In 1880, Edmundo Fernandez used a mixture of sugar and honey to process and distill rum. He aged his product in special barrels which were imported from Europe. The rum he produced was only for his family's enjoyment. The word spread about Fernando's rum and many friends and nearby families would visit the Santa Ana Hacienda to sample the rum.  People started calling Fernando's rum Ron del Barrilito (rum from the little barrel).  Today, the rum is still made with the same secret recipe and methods  by Don Fernando Fernandez, now in its third generation.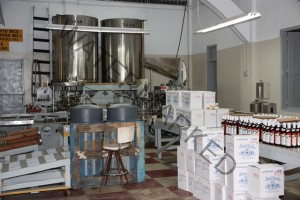 Now, while we may be experts on tasting rum, we aren't experts on all that it takes to make it, so below is an excerpt of an excellent description of the mechanics of the distillery by the folks at Refined Vices:
As we entered we were hit by a wall of warm humid air that smelled delicious and wrapped around you like a warm blanket.
The blending room consists of one medium sized wooden blending vat. Three smaller wooden maceration vats. And a series of small stainless steel and food grade plastic tanks marked numbers one through ten.
After some extended conversation Don Fernando confirmed that the base rum is bought from Bacardi and that indeed 10 ingredients are used in making the blend that becomes Ron del Barrilito. It was indicated that in the blending vat mechanical mixing and aeration takes place.
The ageing rooms flank either side of the blending room. Small doors open to both of them.
Here large beamed racks hold 132 gallon oak barrels that formerly held Spanish Sherry. The racks are stacked to carry the barrels four to five high.
I could see various engravings on many of the barrel heads holding names of Sherry Houses that have long since vanished.  The barrels are never moved from the racks unless they are in need of coopering. The rum is pumped in and out as needed.
We were then shown the shipping room where boxed cases await to be sent. This is also the receiving room where a large stainless steel tank is located to receive the incoming rum.  There is a small plate and frame filter located there and it was indicated that the incoming rum receives a light filtering before proceeding to the blending room.
The only other filtering Barrilito receives is upon bottling in what appears to be a series of canister type filters. Ron del Barrilito is not chill filtered and will haze if refrigerated.
As our tour was winding down, I asked Don Fernando which version of Ron del Barrilito he liked the most and how he took it. With a smile he said the Two Star. He explained that he enjoys  one or two Three Star's in a snifter at the end of a day.  But for a long session of dominos it is the Two Star poured over a glass of ice with a twist of lemon peel.
Liked this article? Join the Crew and Start the Journey! Connect with Us for News, Events, Lifestyle, and all things Caribbean by joining our Newsletter – Click Here to Join or find us on Facebook or Instagram.