There are so many things to do in Puerto Rico, that the problem is not finding something of interest; rather, it is prioritizing the list of things to do in Puerto Rico according to how much time one has.  I have lived in Puerto Rico for over 15 years and there are still many places on my Puerto Rico 'bucket list'!  Here is our great new infographic on some of the top things to do.  However, it is only a sampling… there are many more things to do and perhaps in the future we will add to them….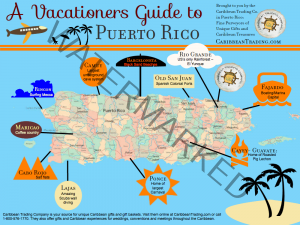 Here are some additional locations that should also be added to the list of Things to Do In Puerto Rico:
Fajardo – Glowing waters of the Bioluminescent Bay; Boating/Marina Capital
Arecibo – Arecibo Observatory – largest radio telescope
Ponce – home of largest Carnaval, vejigante masks, and Art Museum
Coamo- Baths / Thermal Springs
Aibonito – known for its flowers and flower festival
Luquillo – Amazing Beaches and roadside food kioskos
Jayuya – Taino Indian relics
Loiza – traditional coconut vejigante masks
Barceloneta – black sand beaches
Liked this article? Join the Crew and Start the Journey! Connect with Us for News, Events, Lifestyle, and all things Caribbean by joining our Newsletter – Click Here to Join or find us on Facebook or Instagram.