Puerto Rico, a Caribbean gem known for its vibrant culture, music, and cuisine, also offers a delightful palette of wine that is as diverse and rich as its heritage. Whether you're a novice or a seasoned connoisseur, understanding how to store these unique wines is key to maintaining their exceptional quality.
Understanding Puerto Rican Wines
Before we get into the nitty-gritty of wine storage, let's get to know the stars of our show—the Puerto Rican wines. The tropical climate of Puerto Rico yields wines that are often aromatic and full-bodied. Some of the varieties you might encounter include:
Tempranillo: A Spanish grape that thrives in Puerto Rico's tropical climate, resulting in a rich and full-bodied wine.
Cabernet Sauvignon: Known for its depth and complexity, this variety develops interesting tropical fruit notes in Puerto Rico.
Merlot: This grape adapts well to the warm climate and produces a softer, fruitier wine.
Each of these wines has unique storage needs, with slight variations in temperature and humidity requirements.
Decorative Wine Storage
If you're looking to store your wine in a room you spend time in, then a more decorative way to store it at the right temperature is to choose a wine cooler cabinet. These are usually wooden cabinets with built-in wine coolers, which means you can keep wine at ready-to-drink temperatures or storage temperatures without having an ugly wine fridge clashing with your room decor.
Isn't it time you stored your wine in style? Let's explore the basics of wine storage to get you started.
The Basics Of Wine Storage For Wine Collectors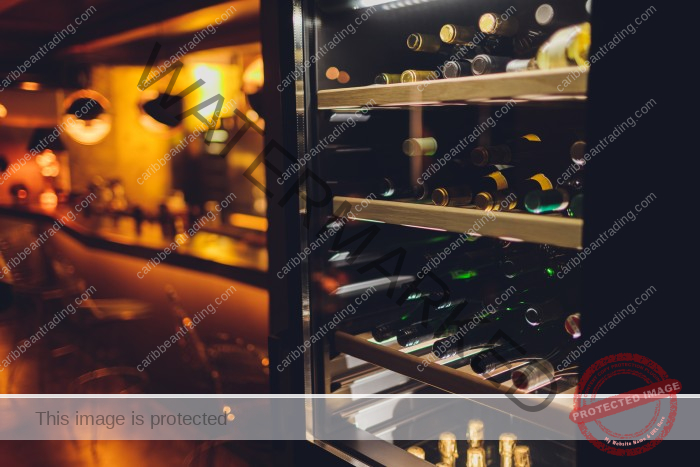 Taking good care of your wine is an art that starts with mastering the essential elements of proper storage. These six factors hold the key to safeguarding the quality and distinctive character of your cherished bottles.
Ready to uncover the secrets behind a truly remarkable wine experience? Let's explore each of these factors and unravel the wonders they bring.
1. Temperature Control
The ideal temperature range for storing wine is between 45°F and 65°F, with 55°F often considered perfect. It's essential to maintain a consistent temperature because fluctuations can cause the wine to expand and contract, potentially damaging the cork or causing wine seepage.
Wine refrigerators or coolers can help maintain a consistent temperature, even if the outside temperature varies. Additionally, digital thermometers can be beneficial to monitor the temperature accurately.
2. Humidity Levels
The ideal humidity level for wine storage is around 70%. A humidity level that's too low can dry out the cork, allowing air into the bottle and leading to oxidation.
High humidity, on the other hand, can promote mold growth. If you live in a dry environment, consider using a humidifier in your wine storage area.
In contrast, dehumidifiers or moisture absorbers can help in overly humid conditions. Hygrometers can be used to monitor the humidity level.
3. Light And Vibration Control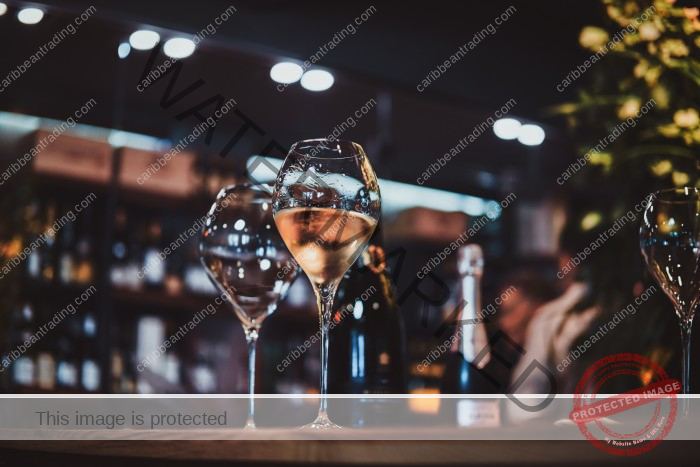 Wine is sensitive to light, particularly ultraviolet (UV) rays, which can degrade it and lead to unpleasant flavors. Therefore, it's best to store wine in a dark place away from direct sunlight.
Vibration can also disturb the sediment in wine, disrupting the aging process. Try to choose a storage location that's free from frequent movement and avoid storing wine near appliances that produce vibrations.
Special wine storage units often have UV-resistant doors and are built to minimize vibration.
4. Positioning Of Bottles
If your wines have cork stoppers, they should be stored horizontally. This keeps the cork moist, preventing it from drying out and shrinking, which could let air in and spoil the wine.
Wine racks are specifically designed for this purpose, allowing for optimal storage orientation.
5. Ventilation
Good ventilation is crucial for wine storage. Poor ventilation can lead to unpleasant, musty odors, which can permeate the cork and affect the taste of the wine.
Ensure your wine storage area has good airflow and is free from strong odors. Avoid storing wine near strong-smelling substances.
6. Rotation And Organization
Regularly rotating your wine bottles helps to keep the corks moist and the wine in contact with them. An organized wine collection also allows you to keep track of your wines, knowing what you have and where, as well as what's ready to drink and what needs more aging.
A systematic approach to rotation and organization could involve several strategies:
Front To Back: Position older wines at the front of your storage area and newer ones at the back. This ensures you consume older wines first, preventing over-aging.
Left To Right: If your storage is horizontal, rotate wines from left (older) to right (newer). This naturally guides consumption in the optimal order.
Top To Bottom: In wine racks, place older wines on top and newer ones at the bottom. This leverages cooler temperatures at the bottom to better preserve older wines.
Labeling: Consider labeling your wines with the purchase date. This simplifies identifying and selecting older wines in your collection.
By mastering these basics, including a systematic approach to rotation and organization, you're well on your way to maintaining a wine collection that will continue to age gracefully and taste fantastic when you're ready to uncork.
Conclusion
Embarking on the journey of collecting Puerto Rican wine is an exciting endeavor, replete with opportunities to savor a rich array of flavors and styles. The fundamentals of proper storage are essential to preserving the unique character of these wines. From maintaining optimal temperature and humidity to positioning and rotating your bottles, these practices ensure your collection remains in peak condition.
Moreover, organizing your collection and learning about each bottle's unique origin and characteristics can enhance the enjoyment and appreciation of your wines. Each bottle tells a story that reflects the rich cultural heritage of Puerto Rico and its burgeoning wine industry.
As you immerse yourself in this rewarding pastime, remember that by practicing the art and science of wine storage, you can fully savor the unique flavors of Puerto Rican wine. So, raise a glass to a future filled with memorable experiences, complemented by the satisfaction of cultivating a well-preserved collection of this Island of Enchantment's finest wines. Cheers!