Your guide to Island hopping with children in the Caribbean, what you should know. The bright, windswept beaches and crystalline blue waters of the Caribbean have long captured the imagination of sun-worshipping travelers. With thoughts of romantic evening walks along the shore, or rum cocktails and pulsing music dancing in their heads, honeymooners and couples, as well as fun-loving singles, flock to the cluster of picturesque islands off the Atlantic Coast between North and South America. But these days, as family vacations have become more and more adventurous, parents have also become increasingly interested in sharing the island experience with their children. And not necessarily just one island, but often several in one trip!
According to a 2017 survey by the Family Travel Association, run by New York University's School of Professional Studies, 88% of respondents claimed that it was "likely" or "very likely" their families would be taking a trip together within the next 12 months. Of those respondents, 57% noted the Caribbean international region as somewhere they "would like to visit" with their children. The tourist industry in the Caribbean has responded to the influx of traveling families by making vacations in the islands easier and more fun for both parents and kids. Traveling with youngsters, of course, can come with its own set of stressors. So how can you make your island-hopping vacation one that your family will remember for a lifetime?
Island hopping with Children-Inspire Them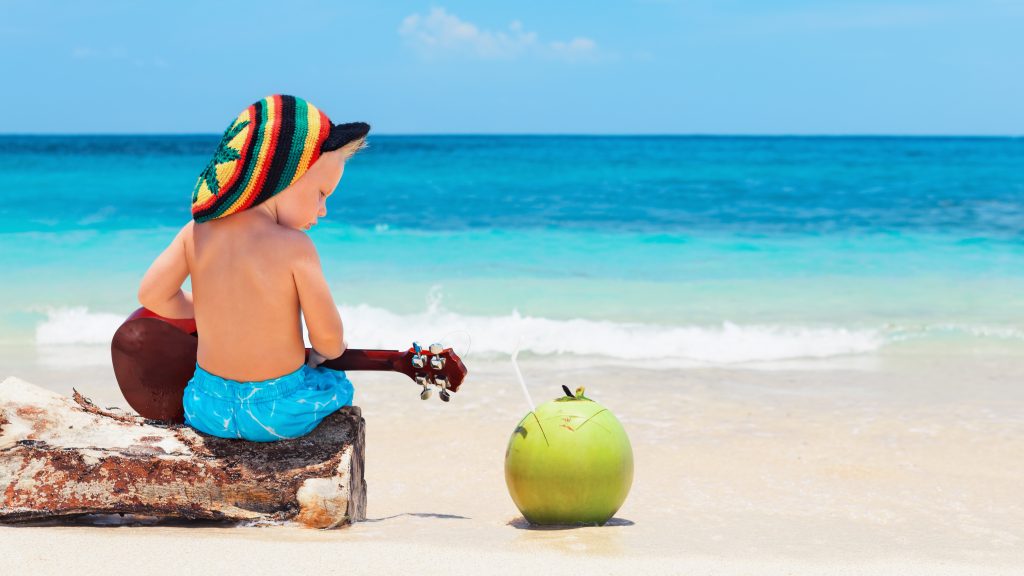 Children of all ages like to feel involved in family activities, and allowing them to participate in the planning process will help them get excited for the adventures to come. Plus, involving them in the process can help them "learn to advocate for what they want, listen to others' wishes and make compromises," according to the Wall Street Journal. If you're going to island-hop and visit multiple destinations over the course of one trip, there will be plenty of planning to do! If you have older kids or teenagers, why not engage them on some of that research? Kids that are old enough to navigate the Internet can put those research skills to use, investigating islands your family might visit, and offering their input of where they'd like to go.
Reading books about or listening to music from your destination countries will also help bring the idea of traveling to these places to life. If you're headed to the Dominican Republic, small kids will love Islandborn by Pulitzer Prize-winning author Junot Díaz, for instance, while teenagers may find themselves entranced by the heroines of Julia Alvarez's In The Time of the Butterflies. If you'll be spending time in Jamaica, make sure you have plenty of Bob Marley on your family playlist. These are just a few examples; your local librarian can direct you to more of the rich literature and music that's an intrinsic part of Caribbean heritage.
Stay Safe and Healthy
You can help ensure that you and your kids have a great trip with your guide to island hopping from beginning to end by taking steps to safeguard your safety and health even before you leave. Fodor's, the esteemed, 70-year old travel guide company, offers a helpful list of Caribbean islands that are great for families with a gentle focus on the safety of each island.
One of the most important things you can do before you leave is to make sure all of you are up-to-date on your vaccinations. The good news is that the U.S. does not legally require vaccinations in order for its citizens to travel to most of the islands in the Caribbean. However, pathogens for illnesses such as Hepatitis A and Typhoid can be present in untreated drinking water. Families planning extended travel may want to consider obtaining vaccinations for these if they haven't already had them.
It's also a good idea to stick to bottled water for drinking, brushing your teeth, and preparing baby formula while you're away. Additionally, zika and other mosquito-borne illnesses can be a concern in some Caribbean nations. The Centers for Disease Control and Prevention (CDC) maintains an extensive and informative website on what to watch out for in every country, and how to protect yourself. It's a smart idea to consult it as you plan out your travel itinerary.
Of course you will check to make sure your passports and any other necessary travel documents, as well as those of each of your family members, are current for the duration of your trip. (Remember, all U.S. citizens, even babies and very young children, are now required to have individual passports in order to travel abroad!) It's smart to make two photocopies of all these documents, and carry one copy with you (but separate from your passport), and to leave another at home with a trusted family member or friend. If your passports are lost or stolen when you travel, these copies will make the stressful process of replacing them while overseas a much quicker and easier process.
Once You're There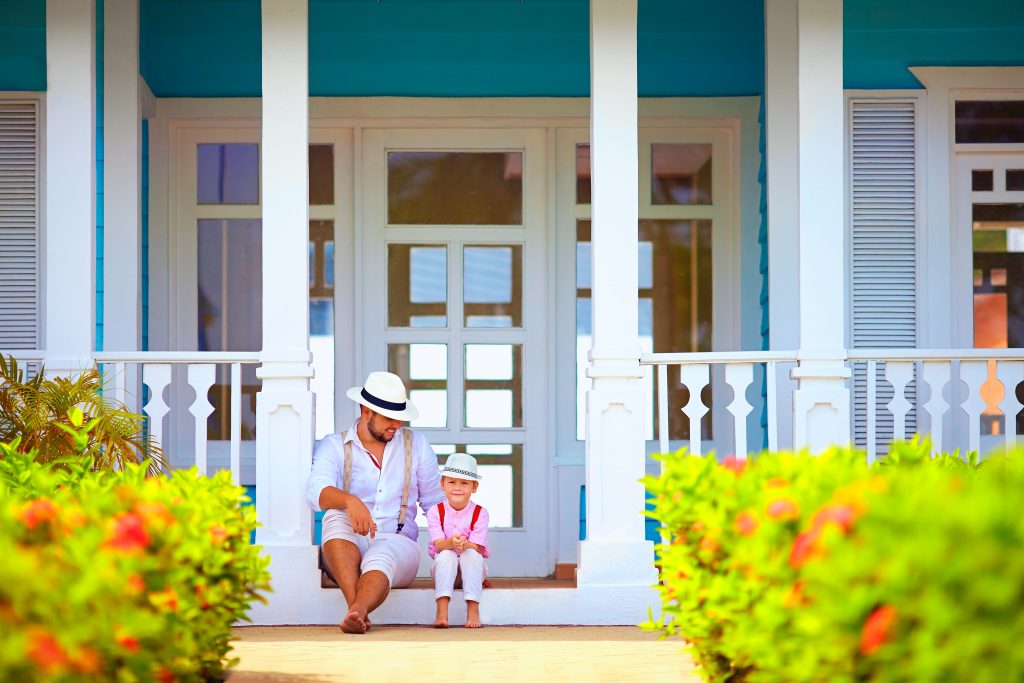 These days, there's a wealth of entertainment options available in the Caribbean for traveling families. The easiest and most convenient way to island-hop in the region remains via cruise ship, and most of the major cruise lines now offer kid-friendly cruises among the Caribbean islands, with amenities like group and private babysitting, teen clubs, play zones and water parks, and a wider array of food options for picky eaters.
If the idea of cruising isn't for you, there are other ways to island-hop the Caribbean. Flying is an option, but it's important to note that flights between islands in the Caribbean are often quite expensive, and the routes can be limited. A much cheaper option, especially if you'll be visiting islands in close proximity to one another, is to use the extensive network of ferry services that operate in the region. In addition to saving on costs, your family can enjoy being on open waters and sightseeing from a boat as you travel from place to place.
Like the cruise industry, the resort industry in the Caribbean is robust and plentiful throughout the islands, and many resorts now cater to the needs of families traveling with children. Some even offer truly once-in-a-lifetime experiences, like circus school taught by members of Cirque du Soleil or a Nickelodeon experience, themed around the beloved children's television channel. For even more intrepid families, home shares throughout the Caribbean can be a special experience. A recent search on Airbnb turned up a treehouse in Rincón, Puerto Rico, a Bali-style villa in Aruba, and a seafront apartment with its own private beach in Ocho Rios, Jamaica.
And as you make your way from island to island, don't forget there is much more to the Caribbean than pristine beaches, colorful marketplaces, and water sports. Island hopping with children in the Caribbean can be a challenge but well worth the effort. Your kids will love the many natural wonders the region offers, and many of the islands have well-tended national parks, nature preserves and animal sanctuaries. At the Barbados Wildlife Reserve you can wander freely among monkeys, peacocks, turtles in their natural habitat, for instance, while in Guadeloupe you can visit Guadeloupe National Park a hikers' paradise that also contains over 100 waterfalls and La Soufrière, an active volcano.
Make sure to protect yourself and your children from the intense Caribbean sun.  In order to be your best guide to island hopping with children, make sure that you are applying a broad spectrum sunscreen and do so often.  Your better off in finding a waterproof or water resistant sunscreen as most likely you'll be in and out of the water plenty.  When applying sunscreens make sure to apply a nice even coating of sunscreen from head to toe.  Make sure to reapply at least every 90 minutes to ensure that the protection doesn't wash off or sweat off.  Then at night, take a warm shower to release the heat and apply an Aloe Vera gel if you have any sunburn to relieve the pain and start the healing process. What is equally as important is to then apply a good quality moisturizing cream to replenish and replace the moisture that the Caribbean sun depletes from you.  This will help to loosen up and allow you to move freely while keeping your skin healthy and maintaining that Caribbean tan to show off back home to all of your envious friends.
If your family is interested in art and history, the islands teem with it. The forts of Old San Juan in Puerto Rico offer hours of fun and educational exploration. Your kids' imaginations will also be stoked by Blackbeard's Castle in St. Thomas, a supposed lookout of the famed pirate. Meanwhile, the Masterworks Museum of Bermuda Art is perfect for families who'd like to see some art but not so big that it'll lose the attention of your little ones.
Every island also has its own unique culture. With a little foresight, you can seek out a vibrant abundance of musical and dance performances, and other cultural celebrations. With all the Caribbean has to offer, island hopping with children in the Caribbean you might even forget all about those pristine beaches. Well… not quite!
Jessica Holmes for Sharemoney