Update as of 7/27/15:  The El Conquistador Hotel no longer offers a Palomino Island Day Pass. If you are interested in getting out there, your best bet is to contact PR Water Taxi.  Here is their email: [email protected] .  This is their Website: PR Water Taxi.
Update 2020: Palomino Island remains closed pending repairs from Hurricane Maria in 2017.
—————————————————————————————————–
Visiting Puerto Rico and looking to spend a day on Palomino Island?  Palomino Island is the private island of the El Conquistador Resort in Fajardo, Puerto Rico.  It is included if you are staying at the El Conquistador, but if you choose not to stay at the El Conquistador, you can still experience the private island for a day with a Palomino Island Day Pass.
You might be asking why you would want to adventure to the El Conquistador's private island and why is it worth it, well here is why the crew loves the island so much.  Palomino Island is a 100-acre, unspoiled, private tropical oasis with palm trees, lounge chairs, white sand beaches and waiters to deliver you a refreshing Pina Colada. There are many activities on the island like windsurfing, horseback riding, snorkeling, scuba diving and the restaurant Iguana's. And while you're on the island, don't miss our second store, Caribbean Trading Company's Island Outpost Gift Shop located on the island to pick up all your vacation souvenirs and more.
Via Water Taxi:
There is a water taxi service running out of Fajardo that will take you to the little islands and cays in the area, including Palomino.  Check out our blog on it for more information: Water Taxi Service to Palomino
Through the Hotel:
*** Please note that as of 8/1/14 this program has been suspended.  As soon as there are any changes, we will update this page***
Day passes are no longer available.
Via Day Sail
Another option for visiting the small island next to Palomino, known as Palominito is to take one of the Catamaran Day Sails out of Fajardo which will take you to Palominito for a snorkeling tour.
Don't miss your chance to be part of this exclusive opportunity and see one of the best beaches in Puerto Rico. You can have a relaxing experience on Palomino Island and live like royalty while enjoying the benefits of staying at El Conquistador for a day.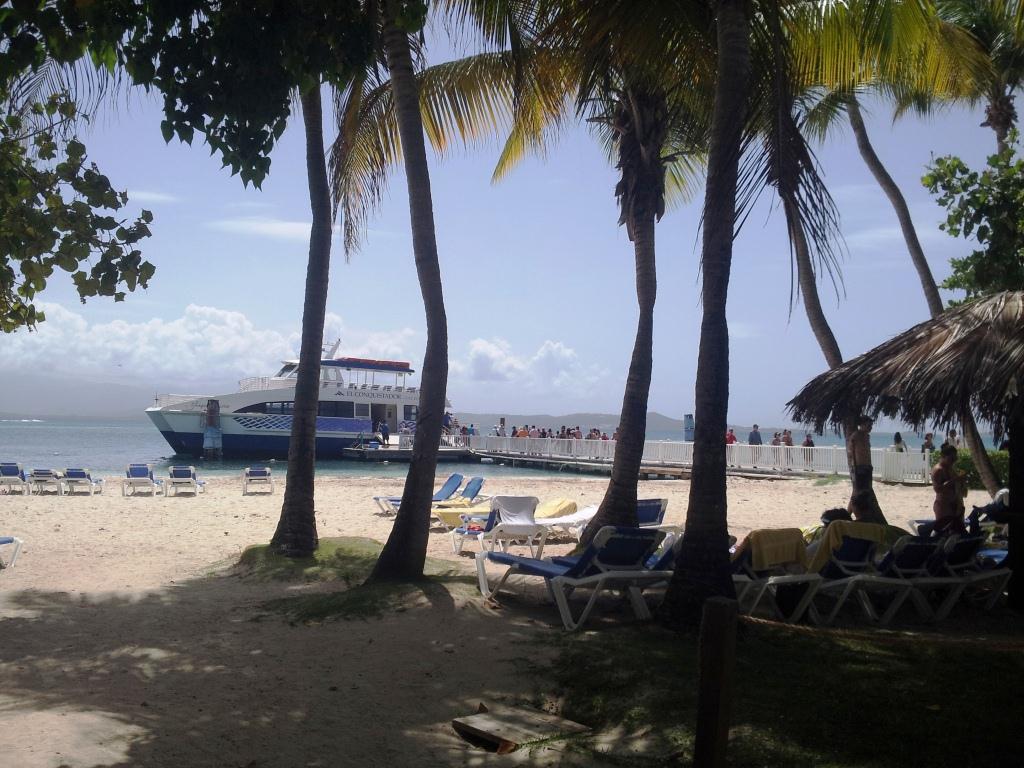 Get your Palomino Island T-shirt Souvenir:
Liked this article? Join the Crew and Start the Journey! Connect with Us for News, Events, Lifestyle, and all things Caribbean by joining our Newsletter – Click Here to Join or find us on Facebook or Instagram.