El Yunque Rainforest is located in Rio Grande, Puerto Rico and is the only tropical rainforest to be found in the US Forest system.  One of the top attractions in Puerto Rico, a visit to the forest is a must-see for any visitor to Puerto Rico.  El Yunque happens to be right in our backyard and so we take advantage of it quite often.  It has many trails and attractions and one can easily spend a half day or many days exploring all there is to see in El Yunque.  For those not looking for an intensive hike, there are still many things to do in El Yunque that are low impact.
Hiking in El Yunque Rainforest
There are so many excellent trails leading off of Carr 191, Carr 988 and on the southern side of Carr 191 in the town of Naguabo.  With varying levels of difficulty, these trails will take you through the different ecosystems to be found in the rain-forest.  Each ecosystem is distinctly different, so try to see them all:
Tabonuco Forest– Located at elevations of up to 2000 ft, trees grow to a maximum of about 115 to 125 ft tall. Tabonuco and Ausubo tree are the dominant species along with Yagrumo , Guaraguao, Laurel Sabino and giant ferns.
Palo Colorado Forest– Occurs at 1970 ft-2950 ft. Here you can find lots of Caimitillo, Caimitillo Verde and Palo Colorado.
Palma Sierra Forest– This forest is found at elevations of over 1958 ft, as its name describes, the Sierra Palm is the dominant specie.
"Bosque En Las Nubes" (Forest in the clouds)- Located 2500 ft above sea level, this forest is limited to the highest mountain tops. These trees do not grow over 12 ft. It's usually very windy and the earth is saturated with water. Common tree species are Némoco, Roble de Sierra, Limoncillo Guayabota and Camasey.
EL Yunque is dominated by a mix of amphibians, reptiles (many of which are kept as pets in various parts of the world)  and birds, so keep an eye out for the many lizards and anoles, coqui frogs, and the Puerto Rican Parrot is you are lucky.
Stop in at El Portal
El Portal is the visitor's center and is worth a stop at least once.  There is a $4.00 parking fee, but it is worth it if you want to get a base understanding of the forest and it's ecosystem.  There is a great gift shop there (you can find Caribbean Trading Company's sauces for sale there) and there is a 20 minute video narrated by Benicio del Toro that shows every half hour that is excellent.  There are also artisans set up on the weekends showing their wares, and a small trail that gets it start here.
Visit the Observation Tower
Located along the side of Carr 1919, this Tower has 96 steps and offers the opportunity to get great views of El Yunque, the Northeast Coast, and on clear days all the way to St. Thomas.  A great way to get a birds' eye view of the forest.
Swimming at La Mina Falls
The only waterfall available for swimming in, the hike to this waterfall is about 1 hour at a easy to moderate difficulty.  It can get very busy, so going earlier in the morning means you will have the swimming hole in more privacy.
Camping
Camping is totally a possibility in El Yunque, but you will need a camping permit from the forest service and you must apply two weeks in advance.  Call them at (787) 888-1880 to get the process started.  This is a link to more information here.
Picnicking
There is no better place to have a picnic than in El Yunque. There are covered picnic areas and braziers for grilling located throughout the rainforest on many of the trails.  Pack a lunch and pick a spot – this is a great way to enjoy the Forest.
Visit El Yunque's Sister Town Palmer
Palmer is the tiny little town as you enter El Yunque on Carr. 191, and is officially designated as EL Yunque's sister town.  As such, you will find some food options, a post office and some gift shops. Although very small, it is well worth a stop.  Well, and of course, you should visit us at the Caribbean Trading Company Store.
Private Adventure Activities
Although not part of the actual National Forest, there are many operators offering excellent activities within the rainforest and in its tributary forest areas.  From horseback riding to zip-lining, bike riding and river kayaking, there is plenty of adventure to be had.  Information on these providers can be found on all the major tourism and travel websites.
Have you visited El Yunque or are doing a project about it and want a souvenir?  Click here to shop some El Yunque souvenirs.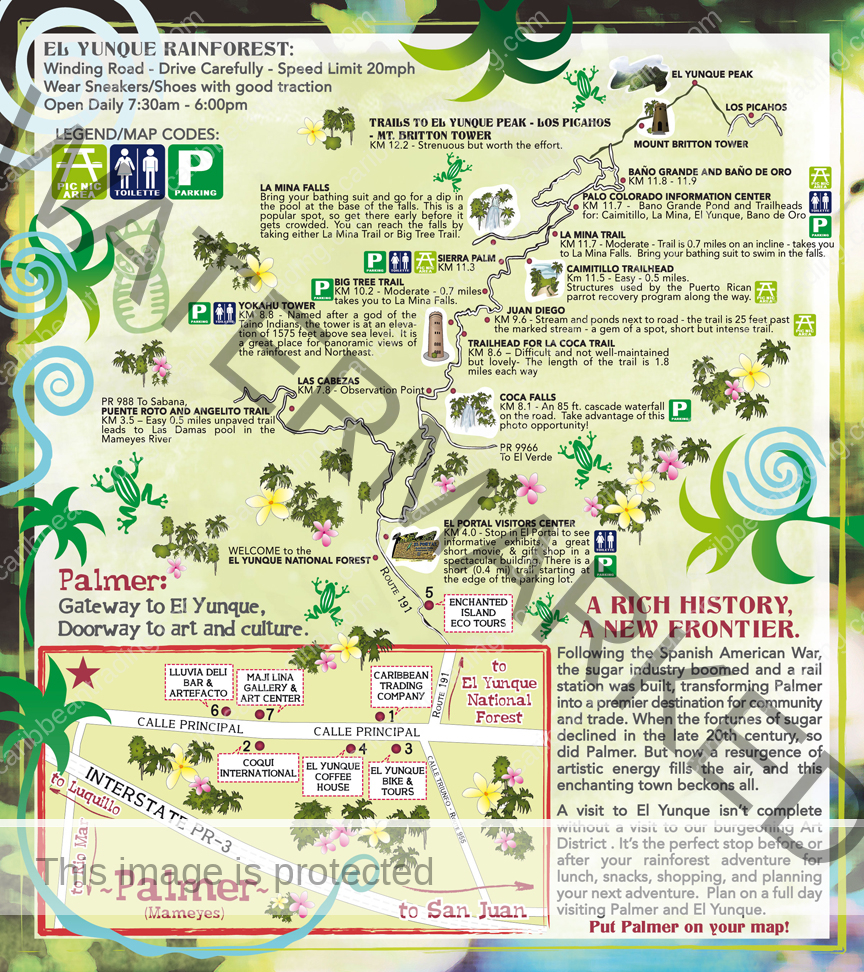 Liked this article? Join the Crew and Start the Journey! Connect with Us for News, Events, Lifestyle, and all things Caribbean by joining our Newsletter – Click Here to Join or find us on Facebook or Instagram.