The folks over at Coconut Bay Resort put together a neat interactive map of Caribbean rum distilleries and we are excited to share it with you!
It's interactive so you can click on a distillery and up pops the information about the delicious Caribbean rum from that island. (Click on the image below to check it out).  The Caribbean is especially known for its' rum and each island features it's own brands, flavors and distillery methods.  We encourage you to take a tour of the rum distilleries throughout the Caribbean and taste the difference for yourself.

The majority of rum is produced in the Caribbean.
Rum is a made from sugarcane byproducts, such as molasses. It can also be made from sugarcane juice by a process of distilling and fermenting. It is usually aged in oak barrels for a minimum of 1 year, although many of the finer rums will be aged for more than a decade.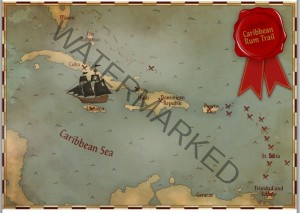 This article was written by Captain Tim and the Crew of Caribbean Trading Company.
Liked this article? Join the Crew and Start the Journey! Connect with Us for News, Events, Lifestyle, and all things Caribbean by joining our Newsletter – Click Here to Join or find us on Facebook or Instagram.