Just Add Water…Caribbean Drinks
Keep things simple at Marriott Stanton South Beach with an H2RUM – all you need is some Parrot Bay and a splash of coconut water. Oh, and a freshly fallen coconut, of course. The hotel's bartender personally brings the coconuts in from his yard to mix this refreshing concoction for thirsty guests. Talk about service!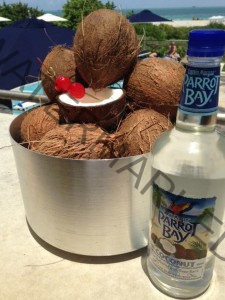 H2RUM
Ingredients:
1.5 ounces of Parrot Bay Coconut Rum
Coconut water
Method:
Mix the rum and coconut water in a shaker and serve in a coconut.
—
Taste of the Tropics… Caribbean Drinks
Journey to the little known island of St. Kitts where beach bars rule and rum cocktails are the specialty. One of the best, The Bohemia Beach Bar at St. Kitts Marriott serves up at the award winning Atlantic Breeze, inspired by the cool ocean breezes over the property. Combine 2 oz each of mango, passion fruit and pineapple juices, a splash of grenadine and of course two types of rum to wash away the woes of yesterday with this Caribbean drinks recipe.
Atlantic Breeze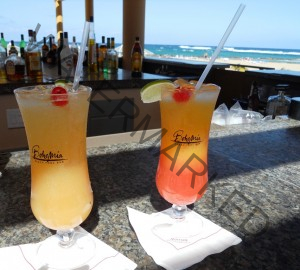 Ingredients:
1.5 oz Bacardi 151
1.5 oz light rum
2 oz of mango juice
2 oz pineapple juice
2 oz orange juice
a splash of grenadine and passionfruit juice
Method:
Combine rums and juices, shake over ice. Finish with a splash of grenadine. Paper umbrella optional.
—
Fresh off the Farm… Caribbean Cocktails
You'll never see a pre-made mix near a Frozen Mojito from CuisinArt Golf Resort & Spa. The five-star resort's on-site hydroponic farm produces the mint for this frozen take on a classic Caribbean Drinks that will keep you cool while chasing the sun through Anguilla's Rendezvous Bay.
Fresh Frozen Mojito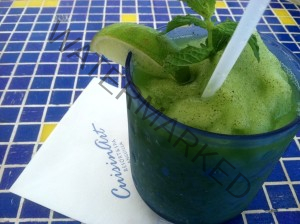 Ingredients:
2 oz. white rum
1/2 oz fresh lime juice
1/2 oz simply syrup
fresh mint leaves
ice
Method:
Blend together and garnish with fresh mint.
—
Island Delight…
Indulge in the tropical flavors of the Caribbean with Santa Barbara Beach & Golf Resort's Frozen Grapes Mojito. Lounge along the white sandy beach with this delightfully sweet, yet playfully potent rum concoction to get into the carefree island vibe that Curacao emanates.
Frozen Grapes Mojito
1.5 oz white rum
4 pcs mint leaves
6 pcs fresh grapes
3/4 oz island oasis mojito mix
Method:
Blend all ingredients in a blender with ice. Pour in a high ball glass and garnish with three fresh grapes placed on a bamboo stick with a fresh lime wheel and mint sprig.
If you're inspired to travel in the name of rum, Curaçao's blue liqueur may be what put this southern caribbean island on the map, but Netto Bar's Ròm Bèrdè, also known as "Green Rum," is becoming a must-try for visitors. Located in Curaçao's capital city, Willemstad, Netto Bar is a popular hangout where people from all social backgrounds meet, talk and enjoy the famous Ròm Bérde. The ingredients of their infamous green rum remain a secret since it opened its doors – 60 years ago. For more information, visit www.nettobar.com.