This recipe calls for 6 lean pork chops cut ½ inch thick and a grill. Flavorful and spicy, these pork chops are nothing like your average fried chops.
Step One: Prepping the Marinade
Ingredients
•3/4 cup water
•1/3 cup lemon juice
•1/3 cup chopped onion
•1 tablespoon packed brown sugar
•1 tablespoon chopped green onion
•1 tablespoon canola oil
•3/4 teaspoon sea salt
•3/4 teaspoon ground allspice
•3/4 teaspoon ground cinnamon
•3/4 teaspoon ground black pepper
•1/2 teaspoon dried thyme, crushed
•1/4 teaspoon cayenne pepper, or to taste
To make the marinade, place the water, lemon juice, chopped onions, brown sugar, chopped green onions, black pepper, thyme, and cayenne pepper into a food processor or blender. Blend until you reach a nice smooth consistency. Use half of the mixture for marinating and save the other half for basting.
**Captain's Note: Try a simpler version of this recipe by simply subbing all of the above for one of Caribbean Trading Company's amazing marinades! No time to marinade? We also have a great assortment of dry rubs ready to go!**
Step Two: Marinating the Meat
Place pork chops in shallow glass dish or marinating baggie. Pour marinade over the meat. Cover, and refrigerate at least 12 hours (overnight).
Step Three: Grilling the Meat
Preheat grill for medium heat. Place grate 4 to 5 inches above heat source. Oil the grill grate.
Place your marinated chops on the grate. Cover grill, and cook chops for 10 minutes, turning once and basting. Cook to desired doneness.
Ready to Eat and in need of an extra kick! Try garnishing with any of these authentic gourmet Caribbean hot sauces!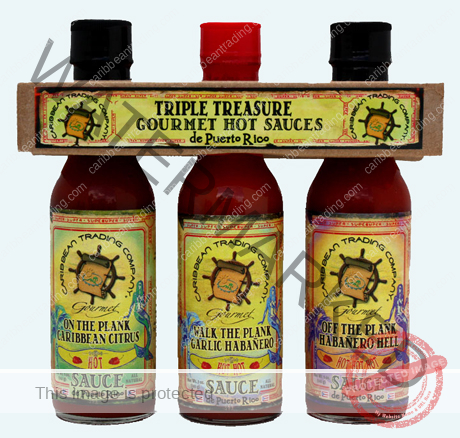 You can find this recipe on our Yummly Page as well.  Hit the Yum Button so you can add it into your recipe box:
Looking to add a bit of Caribbean flair to your life? Check out our online shop  for gourmet hot sauces, seasonings and other Caribbean treats and Caribbean bath and body items.
Liked this pork chop recipe? Join the Crew and Start the Journey! Connect with Us for News, Events, Lifestyle, and all things Caribbean by joining our Newsletter – Click Here to Join or find us on Facebook or Instagram.