An underground migration of concrete people is surely to catch even the most weathered adventurers off guard.  Approaching the massive underwater colony encapsulated in silence and your own thoughts can be quite eerie as you find yourself among a lost community frozen in time. Just another fisherman's tall tale? Not quite.
La Evolución Silenciosa (The Silent Evolution)
The Silent Evolution is a monumental underwater sculptural installation located in the transparent waters of the Mexican Caribbean created by Jason deCaires Taylor and a team of artists, builders, marine biologists, engineers and scuba divers. Over 400 permanent life-sized sculptures form a complex reef structure for marine life to colonize and inhabit, alleviating pressure on existing natural reefs.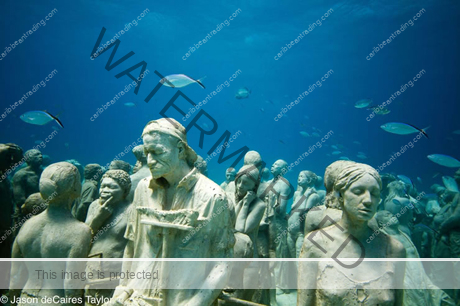 The sculptures are located in The National Marine Park of Cancun, Isla Mujeres and Punta Nizuc.  The completed work is one of the largest and most ambitious underwater artificial attractions in the world, occupying an area of over 420 sq meters and with a total weight of over 180 tons.
The Cancun Marine Park is an aggressively visited stretch of water attracting over 750,000 tourists each year – which, unfortunately, in turn imposes a huge impact on its natural resources. Through providing an artificial reef big enough to offer a significant alternative to the natural reefs provides the existing reefs an opportunity to regenerate and develop the way nature intended. This project is unique in fusing public art with an environmental conservation objective on such a grand scale.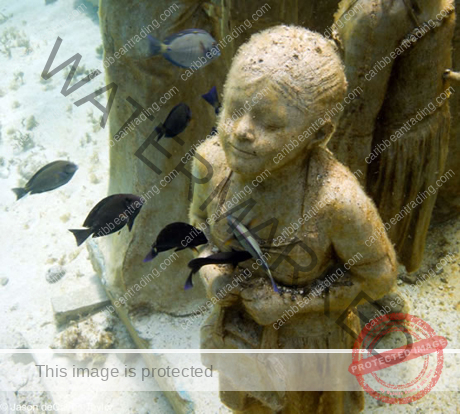 The appearance of the sculptures will transform over time as coral grows and marine life continue to establish among the sculptures. Thus, aesthetic control of the Caribbean Reefs are relinquished to Mother Nature – a stark physical manifestation of the intellectual message behind the work.
Looking to add a bit of Caribbean flair to your life? Check out our online shop  for gourmet hot sauces, seasonings and other Caribbean treats and Caribbean bath and body items.
Liked this article about Caribbean Reefs? Join the Crew and Start the Journey! Connect with Us for News, Events, Lifestyle, and all things Caribbean by joining our Newsletter – Click Here to Join or find us on Facebook or Instagram.