I recently had family in town and we were looking for something to do that we'd never done before (both visitors and those of us living here).  After a little bit of research, we figured that going to Arecibo was the perfect town for a day trip.  I was pleasantly surprised at how many things there are to do in Arecibo.  Not all of these destinations can be done all in one day, but pick three or four and you have the perfect day trip in Puerto Rico!
Driving Time from Metro San Juan area: Approximately 1.5 hours.
Destinations to See in Arecibo:
Camuy Caves
Caguana Indian Ceremonial Park
Cueva del Indio
Chorros del Rio Hondo
Lago Dos Bocas
Cueva Ventana
Urban Art in the Town Center
On this particular trip we chose the following to visit….
 Cueva Ventana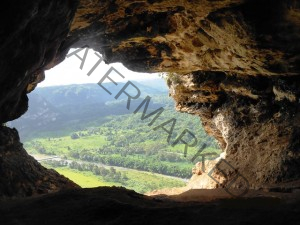 This cave is always featured in the tourism magazines and is on everyone's Top 10 lists, but after a decade in Puerto Rico, we still hadn't seen it, so this was on the top of our list of things to see.  Located at KM 75 on Route 10 in Arecibo, it was very easy to find.  There is a $5 entrance fee.  They have recently made some improvements to the entrance, with benches and garbage cans along the trail and it was about a 15 minute walk to the cave entrance.  Signage wasn't great, but by virtue of the garbage cans, we were able to figure out where to go.  Fortunately, we had read online that you needed to bring a flashlight, and this is SO true.  I can't imagine trying to navigate the cave without a good flashlight.  We got there early in the morning (it opens at 8am) and we had the cave all to ourselves.  The view from the window is amazing and the stalagmites are all very interesting along with the bats and other critters we saw in process.  This is actually an aboveground cave, rather than subterranean and was formed by water carving through the limestone hills, so it is a bit different than the caves you would see in Camuy.
Chorros del Rio Hondo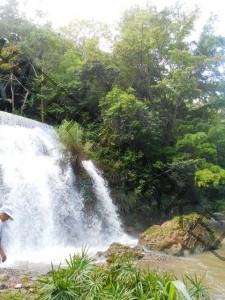 This was recommended as a pit stop by the folks at Puerto Rico Day Trips as a nice add-on while in the area.  It is a man-made waterfall and  local swimming hole.  We had some time before lunch and decided to check  it out.  On the drive in, there was evidence of an old train station building, and an old electric plant.  The swimming hole and this section of river was really pretty, filled with papyrus and limestone rock.  A great place to get out and stretch the legs, and explore a bit.  I read online that if you hike a bit up the river there is another waterfall that is amazing, but we were there after a week  solid of rain and the river was a bit strong, so we'll have to save it for a future trip.  Take Route 10 south. Two miles after the sign for the Arecibo Observatory, you will see a sign to the right for Río Hondo. That's where you turn.  Follow it straight until it dead ends.
Arecibo Beaches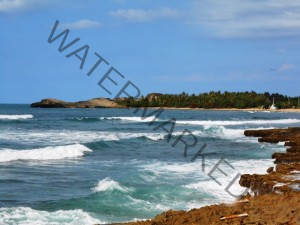 To wind up the day, we took Road 681 along the coast before jumping back on the highway.  There are many nameless beaches and small bars along the road, and it is a fun drive to leisurely stop and enjoy the personality of each beach.  Also along this road is the Cueva del Indio which is excellent and well worth the visit.
Lago Dos Bocas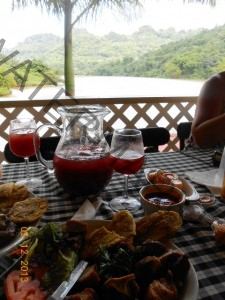 This lake is located on the border of Arecibo and Utuado.  This was the perfect place to grab lunch on a weekend afternoon.  We were so impressed with everything about this experience.  There is a well-maintained launch area where the government has a small boat that will take you around the river.  In addition, there are several restaurants that have ferry service to their restaurants.  Upon arrival, we were given the menus and shown pictures of all of the restaurants available.  In truth, it was a bit overwhelming – they all looked great and the cuisine and prices were very similar.  Finally we chose the one whose boat was next to leave and ended up at Fogon de Abuela and we were very happy.  It was about a 10 minute boat ride to the restaurant and when we arrived, we had excellent lake side seating.  The service was excellent, the Sangria delicious, and the food was cooked to perfection.  We arrived around 11:30am without a reservation and had no trouble, but as we ate lunch the restaurant quickly filled up and by the time we returned to the launch area, the parking lot was overflowing, so going early is a good idea.  At KM 69.7 on Route 10, turn left onto Road 621 toward Road 123. Turn right onto Road 123, and stay on Road 123 following the signs to El Embarcadero parking area.
Liked this article? Join the Crew and Start the Journey! Connect with Us for News, Events, Lifestyle, and all things Caribbean by joining our Newsletter – Click Here to Join or find us on Facebook or Instagram.