Earlier last month we celebrated Beer Day, and on August 1st we are celebrating Mustard Day.  It's crazy- we totally agree- how many things can we celebrate in one day?  And do we even need to?  It's true that if you miss out on eating something with Mustard on August 1st, it likely won't be the end of the world.  However, down here in Puerto Rico we like to celebrate – we'll take any excuse for a holiday – and celebrating Mustard seems as good a reason as any.  Why?  Because there is a psychological benefit to celebrating – it seems that there is a positive psychology behind celebrating and savoring the moments and events of life.  It must work…. According to the United Nations, Puerto Rico ranks as one of the Happiest Places on Earth, and scores top happy points for the Caribbean.  Celebrating every holiday known to man is starting to look like a really good strategy….  So, in honor of happy thoughts, savoring and celebrating, here is how we plan to celebrate Mustard Day:
Most importantly, one needs the mustard.  We will be using our very own Caribbean Trading Company's Caribbean Spicy Mustard.  It's got a zesty flavor profile – the habanero provides the heat and the mango provides the sweet.
1. A meal over Mustard: 
Hot Dogs and Hamburgers anyone?  Captain Tim will be barbecuing lunch for all of his employees.  Captain Tim will be mixing up a lunch for the crew that is focused on Mustard.  What'on the menu?  The recipes can be found below and in the attached links:
Hot Dogs and Hamburgers (with mustard of course!)
2. Spicy Mustard Tastings
We will feature our very own Caribbean Trading Company's Caribbean Spicy Mustard in the Company Store and Rincon with Mustard tastings.  It's more than just zesty flavor sophistication, this mustard is hot stuff.   And we want to share!  Stop by  Our Stores to try some out.  
3. Discount on Spicy Mustard
We are offering a discount in our Online Shop for all of you mustard lovers out there so that you can celebrate too.  Enter the code MUSTARDDAY to get 25% off your bottle of Caribbean Trading Company's Caribbean Spicy Mustard  Valid August 1-10, 2013.
Here are the recipes we will be using for our Mustard Day Lunch:
Pirate Potato Salad Recipe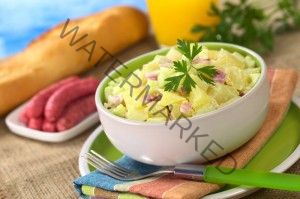 This salad is delicious with just about anything grilled, and always tastes best outdoors! Feel free to use chopped green onions instead of red onions in this flavorful salad.
Ingredients:
3 pounds potatoes, cooked until just tender, cubed, cooled
5 or 6 hard cooked eggs, cooled, coarsely chopped
1/4 to 1/2 cup chopped red onion or green onions
1 lb. Bacon – crispy and chopped
Dressing:
3/4 cup mayonnaise (a little more or less, as desired)
1 to 2 tablespoons Caribbean Trading Company's Caribbean Spicy Mustard
salt and pepper to taste
Preparation:
Combine potatoes, eggs, bacon, and onions.  Stir in mayonnaise, mustard, and salt and pepper to taste.   Put in refrigerator to cool down.  Serves 6 to 8.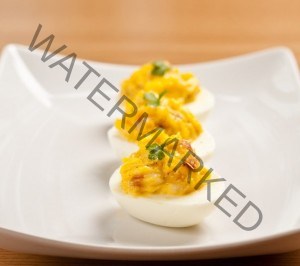 Screaming Deviled Eggs
Ingredients:
1 dozen eggs
2 teaspoons Caribbean Trading Company's Caribbean Spicy Mustard
1 tablespoon Relish, drained and squeezed dry
1/3 cup mayonnaise
Salt and pepper
Garnish: Choice of Paprika, sliced Black Olive or Bacon
Preparation:
1 First hard boil the eggs. Drain hot water from pan and run cold water over the eggs.
2 Peel the eggs. Then, using a sharp knife, slice each egg in half, lengthwise. Gently remove the yolk h
alves and place in a small mixing bowl. Arrange the egg white halves on a serving platter.
3 Using a fork, mash up the yolks (not too much) and add mustard, mayonnaise, and relish, salt and pepper. Spoon egg yolk mixture into the egg white halves. Sprinkle with your choice of garnish.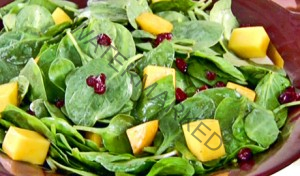 Sailor's Mango and Cranberry Spinach Salad
Refreshing mix of greens with a kick.
2 tablespoons toasted sesame seeds
Step One: Mixing the Dressing
1 tablespoon poppy seeds
1/2 cup white sugar
2 teaspoons minced onion
1/4 teaspoon paprika
1/4 cup white wine vinegar
1/4 cup cider vinegar
1/2 cup vegetable oil
2 teaspoons of Caribbean Spicy Mustard
In a medium bowl, whisk together the sesame seeds, poppy seeds, sugar, onion, paprika, white wine vinegar, cider vinegar, vegetable oil and Habañero Mango Mustard. Set aside.
Step Two: Toasting the Almonds
Ingredients
1 tablespoon butter
¾ cup almonds, blanched and slivered
In a medium saucepan, melt butter over medium heat until slightly burnt. Cook and stir almonds in butter until lightly toasted. Remove from heat, and let cool.
Step Three: Tossing the Salad
Ingredients
1 pound spinach, rinsed and torn into bite-sized pieces
1 1/3 cup of freshly diced mango
1 cup dried cranberries
In a large bowl combine the spinach with the toasted almonds, mango and cranberries. Toss with dressing just before serving.
Liked this article? Join the Crew and Start the Journey! Connect with Us for News, Events, Lifestyle, and all things Caribbean by joining our Newsletter – Click Here to Join or find us on Facebook or Instagram.