Pumpkin Fritters: A Quick and Easy Puerto Rican Recipe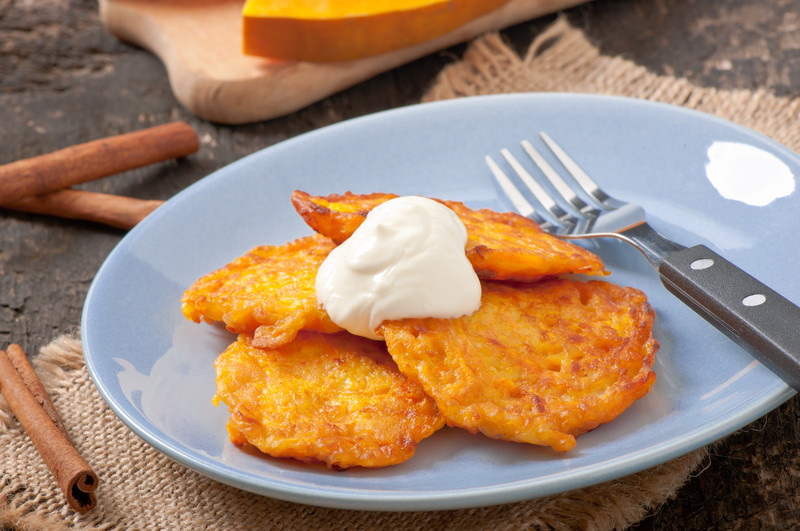 Yum

This year we had lots of pumpkins growing in our yard, and were struggling to find uses for it.  Even after roasting and cubing pumpkin and freezing it for later use, we were still looking for new and creative uses for out pumpkins.  We decided to finally try out making some typical Puerto Rican Pumpkin Fritters, also known as Barrigas de Vieja.  By the way, Barrigas de Vieja means "the belly of an old lady"…. Nice.  Apparently because they are soft and without a consistent shape.
This is not a dish that was popular with my family growing up, nor is it commonly found in Puerto Rican restaurants, so we were excited to try our hands at this recipe.  We found them to be delicious and perfect as a tasty appetizer or dessert, and perfect as a brunch recipe.  Enjoy!
Barrigas de Vieja (Puerto Rican Pumpkin Fritters)
4 cups fresh pumpkin puree 1 cup all purpose flour 2/3 cup brown sugar 1 tsp ground cinnamon A few grates of fresh nutmeg ½ tsp salt 1 egg
1/2 tsp pure vanilla extract
Canola Oil for frying   Directions:
Steam the pumpkins to make the puree. Once boiling, turn down the heat and allow the steam inside cook the pumpkins for about 10-15 minutes. Once done, mash them.
In a large bowl, mix all the ingredients together.  Make sure that all the ingredients are well-blended.
In a frying pan add about 1 inch oil to fry these fritters over medium-high heat… wait until the oil has reached temperature before adding the first one.
Using 2 spoons create little mounds of batter to fry. Once they're golden brown on one side, flip them over to fry on the other side.  Fry until golden brown.
Dipping Sauce:
Looking for a dipping sauce to pair with these?  Try our Caribbean Dipping Sauce