Introducing Caribbean Trading's New Artisan Soaps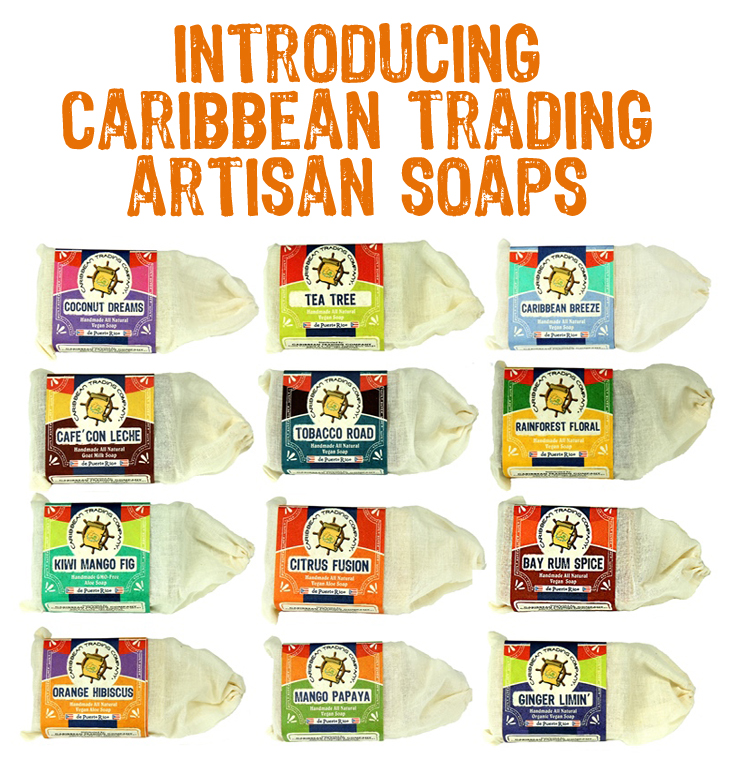 These soaps are divine, decadent, organic, vegan soaps that produces a nice leather, offers a great scent – it is everything you want a soap to do. We are proud to introduce our new line of soaps which has been a labor of love for several years now- from the feel, to the ingredients, to the packaging and label, we wanted to get everything right to offer a soap that felt perfect in every way. And here they are!  They offerthe best fragrances of Puerto Rico and the Caribbean.
Our Handmade soaps contain NO genetically modified oils (GMOs). Soap makers that use  conventional soybean oil and/or corn oil are not only using inferior oils, but are also supporting an industry that genetically modifies products and may be putting small farmers out of business.
We add no Parabens, sodium lauryl sulfate (or similar), unnatural preservatives, or petroleum products to our soaps.  All soaps are vegan soaps except the "Goat Milk Soaps". We have launched 12 fragrances in all:
Bay Rum Spice
This classic Caribbean scent invigorates the senses by combining the zesty essential oil of the West Indian bay tree with rum and a touch of enticing orange. The lather feels both stimulating and soothing. The fragrance is spicy and special. It's what men love to wear and women love to be near.
Coconut Dreams
It's like a morning in the tropics, experiencing the soft touch of warm Caribbean breezes and the cool shade of a coconut palm. Creamy, sweet-smelling lather feels soft and smooth on the skin. The nutty, rich, delectable aroma of coconut completes the enticing experience.
Café con Leche
Goat Milk Soap – A perfect way to start your day, island style. This rich coffee blend soap perks you up and gets you going in the morning. Enjoy the luscious aroma of your favorite Caribbean cafe blended with a skin-tantalizing treat of creamy, moisturizing lather, thanks to a nice dollop of goat's milk.
Citrus Fusion
Tart and tangy citrus notes blend for refreshing scent and a clean, crisp sensation. It's a delectable island fruit punch of grapefruit and orange and lime, doing delicious things for your nose. Then take in the soothing, silky sensory experience of a lather rich in aloe and shea butter.
Rainforest Floral
The soft yet lush fragrance of tropical flowers wafts through the air every time you use this delectable soap. The sweet subtlety of jasmine and plumeria transport you to the Caribbean warmth. Then coconut oil and shea butter caress your skin like rainforest breezes.  
 Kiwi Mango Fig
All natural and full of fruity Caribbean scents. Tropical fruit fragrance abounds from a delectable triple play of kiwi, mango, and fig. On the skin, the sensory experience is just as satisfying, with soft, smooth lather, the soothing of aloe, and a bit of exfoliating action.
 Caribbean Breeze
The forecast is beautiful. The aromas of island greenery and flowering plants combine with the freshness of Caribbean winds for a light, revitalizing fragrance that suits women and men alike. It's subtle, it's light, it's right for making every day feel bright and sunny.
Tea Tree
A dynamic duo of tea tree types, both Australian and Cajeput essential oils bring their natural anti-bacterial properties and energizing fragrance to an all-natural soap. Blend a generous portion of each into a smooth base of olive, coconut, and palm oils for an island kind of clean.
Orange Hibiscus
Drench the senses with Caribbean citrus and floral fragrances in a moisturizing base. Orange essential oil and hibiscus flowers please with rich and nuanced aromas. Abundant olive oil and aloe vera bring softness and soothing to the skin.
Tobacco Road
Leafy richness, mellow floral notes, and mild fruitiness define the natural scent of this sophisticated soap. Meanwhile, the experience on the skin is pure Caribbean comfort, with oils of olive, coconut, palm and sunflower combining to deliver softening moisture.
To purchase our soaps, Click Here