Events in Puerto Rico August 2013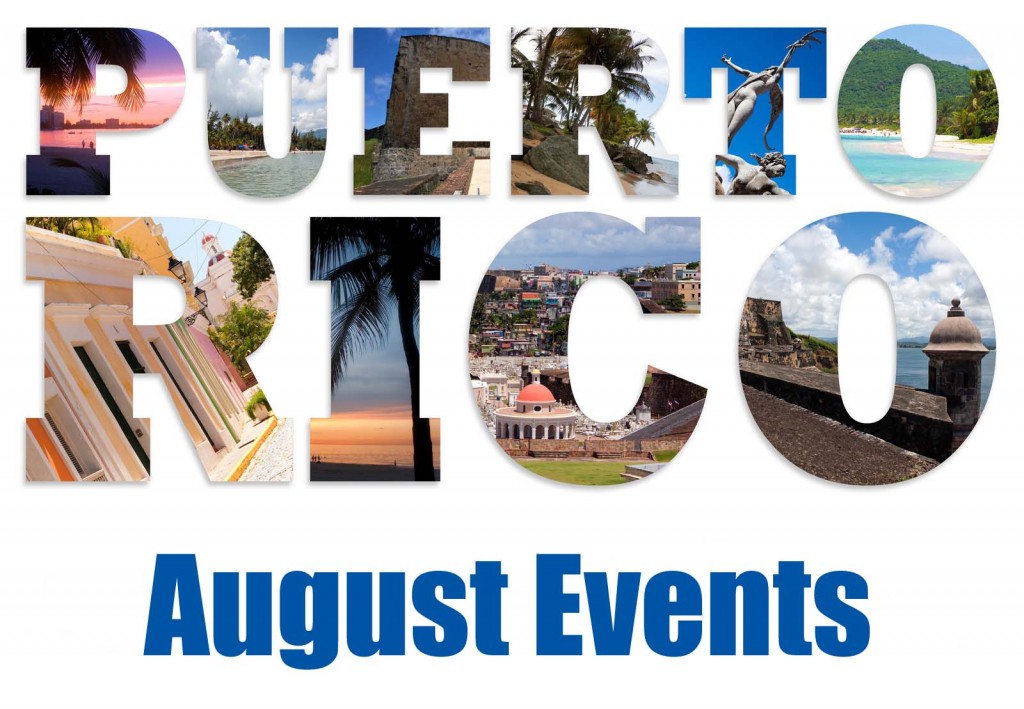 August is a great month to visit Puerto Rico!  August is the height of the summer season and the local kids are going back
to school – which means the beaches are clearing out and the event and festival scene has quieted down.  However, there are still some great things happening that are worth checking out.
Here is what is going on in August:
Entire Month of August: Puerto Rico Art Museum Free for Military.  As part of the Blue Star Museums program, museum admission is free for active military, National Guard, and veterans, and their families through Labor Day at the Museo de Arte de Puerto Rico in Santurce
Thru Aug 10: National Art Exhibit: at the Arsenal de la Marina Española, La Puntilla in Old San Juan
Aug. 3-4: Puerto Rico Country Fair at the Puerto Rico Convention Center.  The Puerto Rican Country Fair is a family event that will bring together the urban with the field, equestrian sports, farm animals, produce grown in the country among many other things
Aug. 4: Festival de Agua Dulce in Cetro de Acopia in Ciales.  This festival is a celebration of the four rivers that flow through the Ciales municipality – Rio Cialitos, Rio Grande de Manati, Rio Toro Negro and Rio Yunes. The festival takes place at the Centro de Acopio, on the corner of Betances Street and Corretjer Street.
Aug. 9: Cayey Patron Saint Festival 2013 – Central, Cayey on José de Diego Street, Cayey, Central. Commemorating the Patron Saint of Cayey – La Senora de la Asuncion.  Features of the Cayey Patron Saint Festival include processions, games, and music and food kiosks.
Aug. 18:  XTERRA Trail Run – 5km & 10km Trail Run at Cerro Gordo at 8am in Vega Alta –  more info
Aug 30 – Sep 22: Play Me, I'm Yours. Touring internationally since 2008, "Play Me, I'm Yours" is an artwork by British artist Luke Jerram. Reaching over two million people worldwide – more than 700 pianos have already been installed in 35 cities across the globe, from New York to London, bearing the simple instruction "Play Me, I'm Yours".  more info
Aug. 31 – Sept. 1: Festival de Pana (Breadfruit). In the Main Plaza of Humacao.  Festivities include folkloric dancing, music, children's activities and local artisans selling their wares, as well as foods and desserts with breadfruit as their main ingredient
Liked this article? Join the Crew and Start the Journey! Connect with Us for News, Events, Lifestyle, and all things Caribbean by joining our Newsletter – Click Here to Join