December 2015 Puerto Rico Holiday Events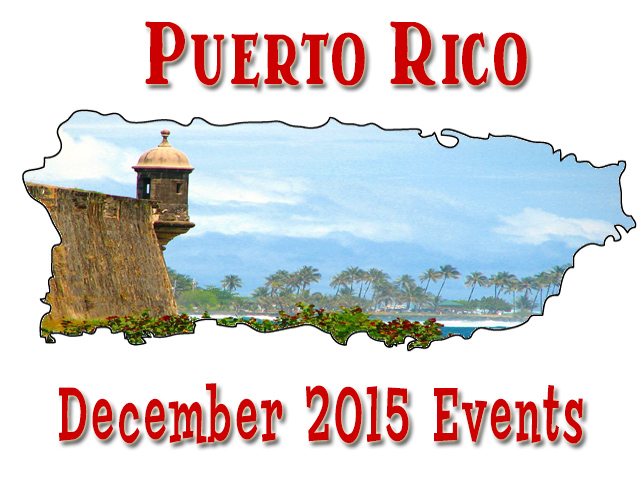 The holidays in Puerto Rico are a busy time and there is plenty to do! Spend some time enjoying the holidays at one of them any festivals and holiday events in Puerto Rico.
The awesome folks over at Puerto Rico Day Trips put this list together….
Winter Park Maze Attraction Dec. 1-5
Visit this maze attraction which allows you to a winter kingdom filled with fun activities including characters, circus/magic acts, and more.
Where: Route 66 Outlet Mall in Canovanas
Saborea Winter Party – December 02 @ 6:30pm
Sample dishes from 21 chefs, enjoy drinks, and the music of a percussion band and DJ. Tickets are $65.
Where: Courtyard by Marriott Hotel in Isla Verde
Sofo Culinary Fest – December 03 to December 06 @ 6pm-11pm
Many restaurants offer special menus for this street fest. Tables and live music set up around Old San Juan.
Where: Old San Juan
Festival de Platos Tipicos – December 03 to December 06
Annual event featuring food dishes typical of the holiday season. With food, music, entertainment, and more.
Where: Town Plaza in Luquillo
The Nutcracker – December 03 to December 06
Performed by the Puerto Rico Ballet for the 35th year.
Where: Luis A Ferre Performing Arts Center in Santurce
Holiday Parade – December 04
Traditional caroling festival featuring traditional Puerto Rican holiday songs, with music, food kiosks, artisans, and more.
Where: Town Square in Aguadilla
Holiday Parade December 04
Traditional caroling event featuring local holiday songs, food, music, and more.
Where: Town Plaza in Lajas
December 04
Lighting of Holiday Decorations and Parade
Event featuring musical performances, food, artisans, and more.
Where: Town Plaza in Arroyo
Lighting of Holiday Decorations – December 04
Holiday event featuring music, food, and more.
Where: Town Plaza in Coamo
Lighting of Holiday Decorations – December 04
Holiday event, with music, food, and more.
Where: Town Plaza in Salinas
Lighting of Holiday Decorations –December 04 to December 06
Holiday celebration, featuring a parade with floats, music, food, and more.
Where: Town Square in Fajardo
Mojo Sauce Culinary Festival – December 04
Event with music, artisans, and food from local restaurants.
Where: Town Plaza in Salinas
Cultural Festival –December 04 to December 06
Event featuring food from different Latin American countries, with music, artisans, and more.
Where: Town Plaza in Yauco
Puerto Rico Artisan Fair –December 05 to December 06
Annual artisan fair, featuring sales, demonstrations, and handicraft displays.
Where: Convention Center in San Juan
Lighting of Holiday Decorations – San Juan – December 05 @ 7pm
Kick off the Holiday season with music by El Gran Combo, Los Hermanos Coatto, Jose Feliciano, and others.
Where: Plaza de la Barandilla in Old San Juan
 Lajeños Holiday Troubadour Fest – December 05
Live music performances, with food, games, and more.
Where: La Parguera in Lajas
Güiro Festival- December 05
Annual celebration featuring music, food, entertainment, and more.
Where: Town Plaza in Quebradillas
UPR Food Truck Fest – December 06
Food trucks in the botanical garden.
Where: Jardin Botanico in Rio Piedras
5K Beach Challenge December 06 @ 6am
The route is 3.1 miles (5K) – 2.1 miles on the coast in pavement, dirt road, boardwalk, and 1 mile in the sand facing the sea where you will find "7 challenges" extremely interesting that will make the run a unique experience. The NEW 7 challenges are as follows: Push – ups, load sandbags and many other surprises.
Where: Middles Beach in Isabela
Shakespeare in El Morro December 11 to December 13
La Sociedad Educativa de las Artes presents "Dream", a Caribbean version of Shakespeare's "Midsummer Night's Dream". All performances are in Spanish, and take place on the Esplanade of Castillo San Felipe del Morro, Old San Juan. Free admission. Shows are at 8pm on Friday and Saturday, and at 6pm on Sunday.
Where: El Morro Fort in Old San Juan
Phone: 787 792 8005
Holiday Parade December 11
Traditional caroling event, with local holiday songs, food, and more.
Where: La Parguera in Lajas
Holiday Fest – December 11 to December 13
Holiday event, with artisans, music, local food, and more.
Where: Basketball Complex in Comerío
Macabeo Festival – December 11 to December 13
Cultural festival, featuring food, music, troubadour contests, artisans, and more.
Where: Town Plaza in Trujillo Alto
San Juan Christmas Boat Parade –December 12 @ 6pm – 7:45pm
Choose your best viewing spot along the waterfront in Old San Juan to watch this annual parade of decorated and illuminated boats. Music, food, and more.
Where: San Juan Bay
Source: Web site
 Lechon Festival – December 12
Celebration featuring food, music, and more.
Where: Paseo Artesanal in Las Piedras
Fiesta Jibara –December 13
Annual festival.
Where: Bo. Charcas in Quebradillas
Aguinaldo Masses –December 17 to December 23 @ 5:30am
Celebrate mass at sunrise on the seven days preceding Christmas at San Juan Cathedral, San Francisco Church, Santa Ana Chapel, Siervas de Maria Convent, La Rogativa, and La Perla neighborhoods.
Where: various churches in Old San Juan
Enchanted Night –December 18
Annual event featuring music, food, entertainment, and more.
Where: Town Square in Guayama
Oxen Caravan –December 19 to December 20
See oxen driven through the streets of Rincon in this annual event. With music, food, entertainment, and more.
Where: Town Plaza in Rincon
Paseo de los Artistas Navideños – December 19
Holiday event, featuring musical performances, and local food.
Where: Paseo de las Artes in Caguas
17th Holiday Troubadour Festival- December 19
Annual event featuring live musical performances, food, and more.
Where: Town Plaza in Vieques
Arroyo 160th Anniversary Festival – December 20
Event with music, dancing, local food, art exhibits, and more.
Where: Town Plaza in Arroyo
Lighting of Holiday Decorations – December 22
Holiday event, with music, food, and more.
Where: Serrallés Castle in Ponce
Troubadour Competition –December 22 @ 7pm
Event with musical performances and competitions.
Where: La Guancha Boardwalk in Ponce
Holiday Al Fresco – December 25
Holiday event, featuring musical performances, and a food festival.
Where: Paseo de las Artes in Caguas
Holiday Parade December 25
Family-oriented event, with food, music, and entertainment for the kids.
Where: Town Plaza in Culebra
Giant Fantasy Park – December 25 to January 02
Family-oriented entertainment, shows, music, food, games, and more.
Where: Julia de Burgos Park in Carolina
Hatillo Masks Festival – December 28
Annual event to remember the Holy Innocents. There are parades, music, food, and people in costume from head to toe. And LOTS of people in attendance.
Where: Town Plaza in Hatillo
New Year's Eve Celebration –December 31
Traditional outdoor New Year's Eve celebration, with music, food, and more.
Where: Town Plaza in Culebra
New Year's Eve Party –December 31
Annual New Year's Eve party.
Where: Hyatt Place in Bayamón
Phone: 787 779 5000
New Year's Eve Party –December 31
The Caribe Hilton offers two New Year's Eve celebrations: the Big Show in the Ballroom, and NYE Dinner in Palmeras Restaurant.
Where: Caribe Hilton in Old San Juan
New Year's Eve Party- December 31
New Year's Eve celebration, with open bar, buffet, and live music.
Where: Grand Ballroom at the Intercontinental in Isla Verd